Greg Zavan Award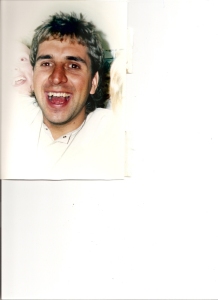 Composed by Chris Hill (OFCFC President) for AGM 1993
Throughout the history of the OFCFC, we have seen many people come and go. Whether they be members, players or supporters, they all play a part in club history, and at times, some larger than others.
Olinda Ferny Creek in the YVMDFL, is considered a small club, but socially the club is the biggest and the best in the league. Olinda Fc is also a family orientated club which brings everyone closer together, in one way or another. Season 1993 has seen the loss of two of its / our "family members". Greg Zavan died mid year and Ash Takacs just recently. Ash, only 18, just beginning his football career, very talented and always improving. Awarded Most Improved Player for the Reserves in the 1993 season, he didn't receive his trophy personally, a tragedy for everyone concerned.
Greg Zavan died 28 years young, a very talented junior player, improving consistently into his senior years. Greg came to prominence in the club, not only for his football skill but also his willingness at a young age to take on off field responsibility and duties. His football playing career hindered by his epilepsy, but Greg made up for this in his commitment to the club elsewhere. His tireless efforts in carpentry work, goal umpiring, bar-keeping, social functions, general helper and all round worker will be sadly missed. For the amount of work that Greg has completed around the club i.e.: new visitors showers, women's toilets etc, and for service over the past years, it is only appropriate that he be remembered by the club and his friends in a special way.
At the Presentation Night, a new award was introduced to our trophy list, donated by The Zavan Family in memory of Greg. The annual award in Greg's memory, is awarded to a person for outstanding service, or as the plaque is engraved, for a "Special Effort". A special effort in the history of our club.
Gregory John Zavan - passed away on the 10th July 1993.
In 2009, the OFCFNC committee, with approval from The Zavan Family,(Peter, Lisa(Greg's sister) and Brayden Shaw) slightly changed the criteria for this award.It was deemed that a younger member of the club who has shown to take regular responsibility for off field tasks or who has made a special effort throughout the season would be a worthy recipient of this special award.
| | |
| --- | --- |
| 1993 | GREG ROBINSON |
| 1994 | GARY JEWELL |
| 1995 | PETER LEONE |
| 1996 | RAY & LYNDY GIBSON |
| 1997 | MARK DALZIEL |
| 1998 | RACHEL SCOTT |
| 1999 | NEIL ARNOLD |
| 2000 | ARTHUR & PAUL CHARTERIS |
| 2001 | GERARD CREDLIN |
| 2002 | PETER GATES |
| 2003 | ANDREW & DALE JAMIESON |
| 2004 | ASHLEY FAULL |
| 2005 | PETER COLE |
| 2006 | NEIL ARNOLD |
| 2007 | DUNCAN BROWN |
| 2008 | GEORGE AZZAM |
| 2009 | SHAUN KUYS |
| 2010 | SAMANTHA ROYCE & GLENN STEVENS |
| 2011 | GEORGIA PATTON & GLENN STEVENS |
| 2012 | GEORGIA PATTON |
| 2013 | SAMANTHA ROYCE |
| 2014 | ROMY SCHAUBLE |
| 2015 | CHRIS DARLING |
| 2016 | KELSEY CURRIE & LUKE HILL |
| 2017 | MOLLY ROGERS |
| 2018 | ROMY SCHAUBLE & KELSEY CURRIE |
| 2019 | PATRICK SEYMOUR |
| 2020 | Season Abandoned |
| 2021 | CASEY SEYMOUR & ALEX TOMADA |