1924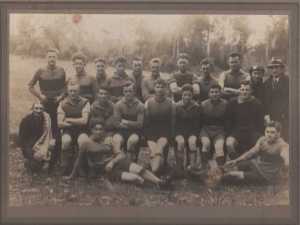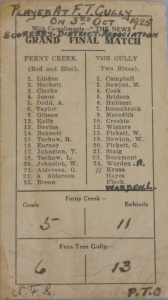 1924 GRAND FINAL AT FERNTREE GULLY
Ferny Creek 9.3.57 Belgrave 6.7.43
Ferny Creek played in five grand finals in a row in the early-mid 1920s- but only brought home the flag on this one occassion.
In 1925 Ferny Creek lost to Fern Tree Gully by seven points. We have the original team list from that day.
The PDF article also has the names of the entire 1924 Premiership team.
SemiFinal
Ferny Creek 10.13.73 FTG 4.5.29
The only other result we have from this season is the May 10 match at Gembrook-
Gembrook 1.0.6 Ferny Creek 22.21.148
The scores indicate what a powerhouse team Ferny Creek was able to put in the field in the mid 1920s. It included two big men who had played at Footscray - John Sands and Henry Linden.