Choofa 50 Years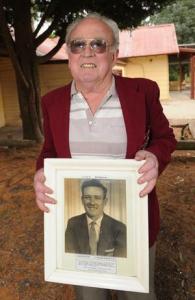 Milestone for 'Choofa'
Peter Hanlon
March 9, 2009
Arthur "Choofa" Charteris: 62 years of devotion to his footy club.
Photo: Vince Caligiuri
Advertisement
A HALF-century of service and devotion to a sporting club is an amazing thing. But 50 years of life membership, that's a feat of endurance sighted about as rarely as the flick or stab pass. Arthur "Choofa" Charteris has often pondered what he'd done to deserve the accolade bestowed on him by Olinda Ferny Creek Football Club in 1959, marked with a small photograph of a then-30-year-old "Choofa", a sepia portrait in a simple white frame. "They used to hand 'em out back then," he says, a modest assessment that ignores the fact that by then he'd been toiling with the Mountain District League club for a dozen seasons. "Maybe it's to make you stay there, I've often wondered that." "Choofa" certainly stayed, first as a player, then through stints as treasurer and committeeman and into his current role of timekeeper. "I'll do anything," says the man with a lifetime of stories on the tip of his tongue. He has the minutes of club meetings dating back to the early 1930s, but isn't much for detailing his own contribution; he played until "about 1960", but couldn't say how many games, let alone how many zillion times he's walked or driven through the footy ground gates. "I've never kept dates. I just plug along and that's it."
Never forget a name
HE HAS no trouble recalling the efforts of others, and the names tumble out like a veritable history of the hills. Eddie Fowler the carpenter overseeing the building of the changerooms in 1953, the players providing the labour so they wouldn't have to strip in the mechanics hall anymore. Mick Ryan from Upwey doing the electrical work, Mick Clarkson from Sassafras the plumbing. Borrowing Cliff Bowler's rotary hoe to dig the hole for the water tanks so they could have a post-game shower, digging and digging and throwing the dirt out until someone looked down and asked, "How are we gunna get the hoe out?" The club blazer bought "for about five quid", with the tailor's name, J.K. Lipshut, inside the lapel. Playing in the snow a couple of times, Kilsyth coming up for a practice match one year, seeing the white flakes falling, saying "No thanks", turning around and heading home. The women boiling water for tea ("ya didn't have coffee back then") in a wood copper, housed in a tiny shed on the wing. Frank Johnson sending out a bottle of whiskey one three-quarter-time, then asking Joe Fowler after the game if it had helped beat the cold. "It tasted real good," Joe told a gobsmacked Frank. "I meant for ya to put it in ya boots to keep ya feet warm!" "Boots be buggered," "Choofa" chuckles. "We drank it."
Tunnel ball debut
FITTINGLY for a bloke who's not much for accolades, "Choofa" played in the back pocket. The only anecdotes he offers from his playing career are told against himself, like coming on as 19th man in his debut as an 18-year-old, the ball bouncing towards him, then whooshing straight between his legs. "That was me first touch." One day, against Monbulk, he found himself in the forward line and kicked a goal. It was the only excursion beyond the middle of his career. He still loves footy, although reckons the umpires could learn a bit from the blokes who checked stops "and told ya what they were gunna pay and what they weren't gunna pay. We've got three of 'em now and they're still not much good."
Not choofing off just yet
HE'S not sure what it is about a footy club that inspires such wholehearted commitment, but knows he's made a lot of friends and even more memories there. Since losing his wife in 1995 it's provided solace, along with sweeping the floor and making coffee at his son's factory. "There's no good sittin' at home lookin' at the wall." He's greeted at the club nows by young blokes saying "g'day 'Choofa' " whose names he doesn't even know, then he does his bit and says his goodbyes in a fashion heard at Olinda since before there were walls for the words to bounce off. "I used to have an old 1926 Dodge, and whenever I was going I'd say, 'Oh well, I'll choof off then'. And that's how I got 'Choofa'." Olinda Ferny Creek footy club is eternally grateful it got Choofa too.