Our Sponsors
Kiama Leagues Club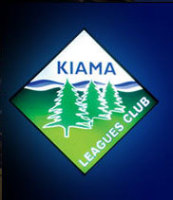 http://www.kiamaleagues.com.au/
Gold Sponsors
This modern friendly club, situated in the heart of Kiama, welcomes visitors.
We offer air conditioned comfort throughout the club with a child friendly bistro including a childrens playground that is open for both lunch and dinner, seven days a week. A busy weekly entertainment programme provides for all tastes - Bingo, Meat Raffles, Live Entertainment, Trivia, Free Poker, Members badge draws and many other promotion.
We are very appreciative of the financial support offered to us by Kiama Leagues Club along with making their function rooms available to us for our monthly meetings and evening spectacular.
They are great supporters of many local junior and senior sporting clubs and many other community groups.
We would hope you will return their support in a tangible way if you can. Membership is a only $8 but you do need to be a member if you wish to visit the club if you live within a 5km radius. Membership forms are available from the Club.
109 Terralong Street, Kiama
Phone: 02 4232 1777
Licked Gelateria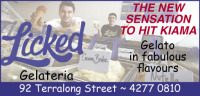 https://www.facebook.com/lickedgelateria
The new sensation to hit Kiama!
With loads of fantastic flavours and selling "artisan gelato" this is the place to get your sweet tooth fix!
Visit them at 92 Terralong Street, Kiama or phone 4277 0810.
Jennie's Book Nook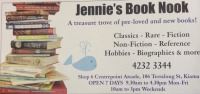 A treasure trove of pre-loved and new books!
Shop 6, Centrepoint Arcade
106 Terralong Street, Kiama
Open 7 Days (9:30am to 4:30pm Mon-Fri, 10:00am to 3:00pm Weekends)
BaiMed Physiotherapy Sports Injury Clinic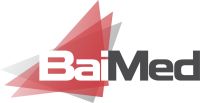 http://baimed.com.au
BaiMed Physiotherapy provide a Monday night injury clinic, a free service that is able to be utilised by all registered playing members of the club. This service is available via appointment only and can be accessed at our Kiama clinic from 6:30pm each Monday night during the season. There is no limit to the number of appointments available. At this injury clinic, players are able to undergo a full assessment of their injury, gain advice and receive management planning.
Referrals are also provided for X-rays/scans/Doctors as required. No treatment apart from basic injury management/first aid is provided here. Treatment is reserved for normal clinic appointments.
3 Brown Street, Kiama
Phone: 4233 1851
Australian Solar Designs

http://www.australiansolardesigns.com.au
Australian Solar Designs (ASD) is a company that specialises in the Installation of both Residential & Commercial Solar Photovoltaic Systems. The company was established in 2009 by Scott Mason, a Licensed Electrician with a passion for contributing to Australia's Clean Energy Future. In 2009 the Solar Industry was booming with the value of the Government Rebate at its highest. ASD has seen the industry highs and lows and has survived the feed in tariff changes and rebate decreases and remains a strong competitor.

In this time ASD has formed alliance partners with Companies such as Harvey Norman Commercial, RF Industries Pty Ltd, ACT Government, Solar Switch, and SunConnect. ASD have become the exclusive installers used by Harvey Norman Commercial for all installations across the Southern Sydney regions, South Coast, far South Coast, ACT and surroundings.
Contact us on 0412 639 956 or visit our web page.
Kiama Cycles & Sports
http://www.kiamacycles.com.au
Des Howley from Kiama Cycle and Sports has been a long term sponsor and supplier to our Club. Club shorts and socks are available to purchase along with a good selection of soccer balls, shin pads and boots. We appreciate the support from Des and hope you can support his business.
Open 9:00 - 5:30 Mon-Fri, 9:00 - 3:00 Sat
27 Collins St, Kiama
Phone: 02 4232 3005
Email: kiamacycles@gmail.com
Dragon Garden Chinese Restaurant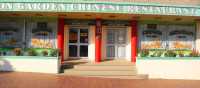 http://www.dragongardenrestaurant.com.au
The Dragon Garden Chinese Restaurant is a family owned restaurant that has been serving the community of Kiama for over 30 years.
Situated in the busy thoroughfare of the Kiama town centre, the Dragon Garden Chinese Restaurant is within easy access and parking is available close by.
The restaurant caters to diners with an extensive list of Chinese dishes and we are fully licensed. They also have an extensive takeaway menu on offer for those who would like to order for a night in!
We're open for lunch and dinner 7 days a week. We also open on public holidays.
Martin & Holmes Legal
http://www.yellowpages.com.au/nsw/kiama/martin-holmes-legal-13729230-listing.html
Full range of legal services including:Conveyancing & Commercial Transactions, Family Law, Wills & Estates, Employment Law, Criminal & Traffic Offences and all Court Work. Practical solutions to your legal problems.
Fixed Fees and competitive prices.
5/114 Terralong St, Kiama
Phone: 02 4232 1155
Email: pmartin@martinholmes.com.au or pholmes@martinholmes.com.au
Steve's Mobile Coffee Van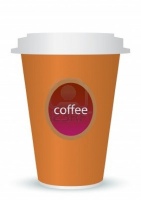 Steve's Mobile Coffee Van supplies freshly made hot beverages to your local event. A wide range of coffee's from freshly ground beans as well as hot chocolates and teas.
Phone: 04 3342 8644