Oxley Butchery
Oxley Butchery Bowral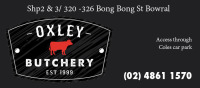 www.oxleybutchery.com.au
Since 1999, the Oxley Butchery has supplied quality meats to customers throughout the Southern Highlands, including Mittagong, Moss Vale and Bowral.

Oxley Butchery sells a mouth-watering array of fresh red meats, small goods, poultry, marinades, condiments, and farm fresh eggs.

Oxley Butchery is a family run business with family values. The staff are friendly and happy to recommend the right cuts for your taste.
Look out for our blackboard specials every week!
t: 02 4861 1570