Early Years 1926-1970's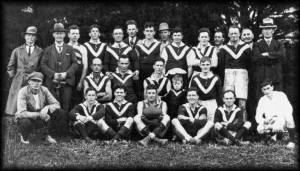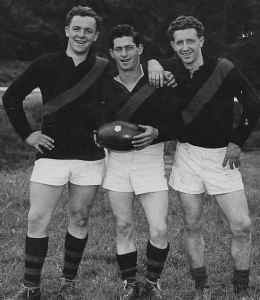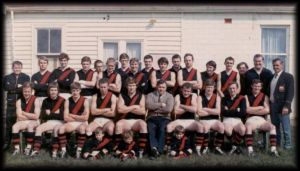 The Panton Hill Football Club was founded in 1926, in a league called the Bourke / Evelyn Football League. The club won its first premiership in 1934 against Yarra Glen who were undefeated all year. The league went into recess in 1939 at the beginning of world war two, the jumper was maroon in colour with a white V running from shoulder to shoulder. After the second world war, a new league was formed in 1947 by Andy Duff of Panton Hill, Col Sinclair of Hurstbridge and Jeff Ashton of Kinglake. The Panton Hill Football League Consisted of seven teams - Panton Hill, Wallan East, Plenty Rovers (Mernda), Hurstbridge, Kinglake, Whittlesea and St Andrews.
Keith Johnson was Captain/Coach in 1947, Bill Johnson Vice Captain and winner of the best and fairest for that year. Panton Hill jumpers were the same as the old Melbourne colours but were changed to black with a red sash (Essendon jumpers) as the Melbourne jumpers were hard to come by.The only senior premiership in the Panton Hill League was in 1955 and the juniors won back to back premierships in 1964 - 1965 .
After a stellar season in 1970 under first year coach Peter Ferne the club was runner up to Hurstbridge. The only League Senior Best and Fairests we have had were Mick Bowman in 1969 and Will Box in 2004. The only players to kick 100 goals for the club in one season are Mick Carns (In 1960) and Errol Loeffler. Juniors to win a league best and fairest are Jack Sullivan, Barry Sullivan and Garry Skinner in the 60s and Joe Jach and Peter Hoppe in the 70s.