Club History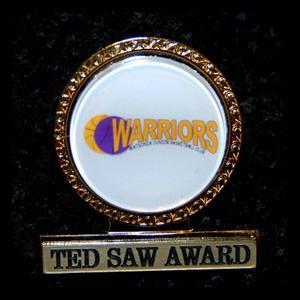 Ted Saw Award
In 2010, the Committee announced a new award. We wanted to thank those for past contributions to the Club and recognise our valuable members moving forward. In honour of the founder of the Club, and to keep this part of our history alive, we announced the "Ted Saw Award".
This Award is not given lightly and it is given to those who have gone above and beyond the call of duty, and also passed the eligibility criteria.
This Award will only be awarded to members who:
Have served a minimum of 7 years as an active member of the Club

Have had significant influence on the Club, i.e. Committee Member, Team Manager, Coaching Role

The nominated person must have displayed qualities such as sportsmanship, discipline and loyalty

This Award is purely for recognition of loyal service to the Club
CONGRATULATIONS TO ALL WHO RECEIVE THIS WELL DESERVED AWARD
2015 Recipient
Chris Hall
2012 Recipient
Leanne Johnson

2011 Recipient
Monica Rigby
2010 Recipients
Ted Saw, Heather Douglas, John Bartlett, Michelle Hall, Angela Davies, Sharyn Northrop
Founded in 1970
In the early months of 1970, the Club's founder, Ted Saw wanted to involve his son in a sport that he himself played and enjoyed. He recruited seven boys from the neighborhood and entered them in the Eastern Districts Junior Basketball Association as "Watsonia Heights".
Six months later, the next season started with two teams being formed by recruiting brothers and friends. The following season the teams grew in number to five, then seven the following season.
Ted trained the boys in Fitzroy, Bundoora, Lower Plenty, in fact anywhere he could find an available court. He coached as many as six teams on a Saturday, all at different venues. It became virtually impossible to arrange time to coach any more teams, so he enlisted the aid of Harold Patterson to coach team number 7. As team numbers and Club members grew, so did the problems. A Committee was formed with Cliff O'Connor, whose son played at that time, as the first President and Ted Saw was Secretary/Treasurer. The other members of the Committee were Ron McGregor, John Stephens, Don Drake, Harold Patterson and Tom Campbell, the parents of the first team.
Over recent years, the Warriors have gone through an evolutionary phase, becoming more modern yet retaining our traditional roots.
Of course, our colours of Gold and Purple remain, but a few things have changed.
To reflect the ever-expanding geographical area of our membership, we have altered the Club name from Watsonia Heights to Watsonia. We take pride in the name of Warriors, so that remains unchanged. In order to distinguish ourselves from the open age branch, and to continue our support of students in sport, we continue to be known as a Junior Basketball Club.
Another update has been the loss of the Indian figure as our mascot/logo, being replaced by a more stylistic and modern pair of basketballs in our colours. The new logo certainly stands out and will soon be on display at Diamond Valley Stadium for all to see.
Our uniforms have also been upgraded, in style, colour, fabric and consistency. As some of our member families had been with us for many years, some teams contained a variety of different coloured uniforms, from pale mauve to the more recent blue-purple from our suppliers. At the beginning of the Summer 2010 Season, every player on every team took to the court in our brand new uniform. The Committee were very proud to see so much purple on the courts.