Club History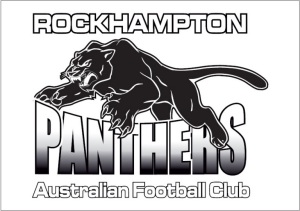 The CQU Rockhampton Panthers Australian Football Club Inc is steeped in tradition being one of the founding clubs of the Capricornia Australian Football League. The Gladstone Mudcrabs, Wandal Bulls (now Glenmore Bulls) and Parkhurst and Northern Suburbs all took to the field for the first time in 1973.
In 1983/84 the Panthers joined the Cricket Association as co-tenants of what is now the North Rockhampton Cricket Grounds. Together with the Cricket Association, the Panthers transformed these bare grounds into the excellent facilities that stand today. The venue now holds the premier playing field in Rockhampton and also has a clubhouse, grandstand, canteen newly refurbished change rooms and four lighting towers for night games.
First incorporated in 1986 the Panthers have seen many highs and lows. Some of the Panthers proudest moments have been our A Grade Premierships in 1980,1985, 1993 and 2007, as well as our Reserve Grade Premiership in 1983, 2015 and 2016.
The Panthers have had some slight name changes along the way to coincide with community feelings. From Parkhurst in the beginning to adding Northern Suburbs to the name, then to Rockhampton and recently to CQU Rockhampton Panthers AFC Inc. Also in 2003 the club guernsey was redesigned to have a panther on the front. The name may have changed but the club has always been the mighty Black and White Panthers.
The Panthers have a proud history and a promising future. Be a part of it, and enjoy the experience.
Go Panthers!!