Auskick, Disability Inclusion & Superstars Football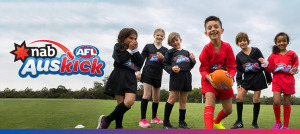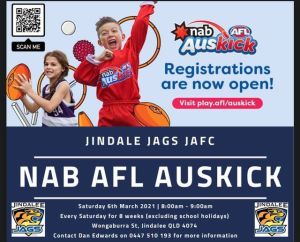 Jindalee Jaguars will again be running an outstanding Auskick program for 2021 with some exciting changes to the format this coming season.
This means the kids can train and then play for the entire football season just like the older kids so they don't feel they are missing out or disengaged while footy is still on the telly.
Below is all the information we hope you will need to know before you sign up your future footy superstar into the Jags NAB Auskick program. If you do need to know a little more please call the Jindalee Auskick coordinator – Tay Ede - 0413 612 780 or Auskick@jindaleejags.com.au
or to register for Auskick, please CLICK HERE. This year Auskick have moved to a new website called PlayHQ, you will have to create a new account for yourself then register your child. If you need help please call Dan Edwards on 0447510193.
Our new program NAB AFL Auskick - Modified Program - Disability Inclusion To register click here
This program is the best, first experience children will have learning Australian football. Run by a team of passionate, footy-loving individuals, the modified program is designed at a reduced cost to the participant. Auskickers will constantly be on the move; running, jumping, catching - all while laughing and having a great time with their friends. Season 2021 is 01 Dec 2020 - 30 Sep 2021
Ages

5 - 18 Years Old

Age is calculated as at 31/12/2021
This program is developed to allow young people with disabilities to be engaged weekly in an AFL based program. Designed by an exercise physiologist, and with the help of one to one carers, the participants complete AFL aligned tasks that encourage them to be active, to work with others and to enjoy their football.
Don't forget to select Jindalee Jaguars from the drop down box
HOW MUCH DOES THE PROGRAM COST
The price for the Auscick program is set by the governing body at $90 per participant for the base 7 week program and then $50 for Roy's Junior Football.This is not payable to the club and is paid at the time of registering online.
HOW DO I REGISTER FOR AUSKICK
All registrations must be done online through the Nab AFL Auskick and Superstars Junior Football websites, please use the links above.
WHEN DOES THE PROGRAM RUN AT JINDALEE JDAFNC
The Auskick program runs on a Saturday morning 8am – 9:00am starts 6th March 2021 and goes for 8 weeks excluding school holidays.
Superstars Footy start date announced soon.
WHAT DOES THE COST INCLUDE
As part of your AFL Auskick registration, each child will receive their very own AFL Auskick Benefits Pack jammed full of awesome gear.
New Participant Pack
Football

Backpack

Cap

Pump

Footy Cards

Album

Activity Book
As well as the standard participant pack, Jindalee also gives each child who completes the full program a participation medal and their very own, exclusive, "I Play Footy at the Jags" cap.
WHAT IS NAB AFL AUSKICK
The NAB AFL Auskick program is for primary school aged children 5 to 12. (Children aged 4 must turn 5 sometime in the 2021 calendar year to participate)
NAB AFL Auskick program makes learning to play AFL fun, safe and easy for boys and girls. Through weekly coaching sessions they will learn the skills of the game in an exciting, social and safe environment.
Children will learn the fundamental motor skills vital for future physical activity and sport participation as well as learning how to interact with other children as part of a team in small group activities.
The program also provides a great opportunity for parents to interact with their kids through the activities, have the opportunity to make new friends, learn about the game and spend quality time with their children.
Benefits to children
Children learn the fundamental motor skills for future physical activity and sports participation

Children learn the basics of fitness conditioning, including how to train and practice

Children learn the basic principles and importance of health and nutrition

Through specially arranged physical activities and games, some very important mental and psychological skills are nurtured. These include self-motivation, self-responsibility, self-management, persistence, resilience and a best effort always attitude

Through specially arranged team activities, children learn important social skills, including cooperation and respect for others

Contact with older children and adults provides valuable role model experiences

Generally, children benefit from greater levels of confidence and self-awareness and improved health, fitness and overall well-being

Physical activity develops motor and social skills and intellectual capacities.

NAB AFL Auskick can assist in reducing self-destructive and delinquent behavior in young people and contribute to a more disciplined attitude

Community structures often serve as positive models for other community programs that rely on volunteer support

Growth in NAB AFL Auskick benefits our economy, as do the savings on health expenditure that flow from a fitter and healthier population

Physically active children are more attentive, have a more efficient memory, enhanced creativity and better learning, and problem solving and attitude capabilities

NAB AFL Auskick helps children develop to their full potential.
Benefits to parents
Convenient, local opportunities for safe, quality family time that results in family bonding

The opportunity to engage with children and other families in physical activities and games

Greater social contact and interaction
Benefits to the community
A stronger social fabric and improved community health

Enhanced family and non-family support networks

Decreased antisocial behavior

Community structures often serve as positive models for other community programs that rely on volunteer
support

Growth in NAB AFL Auskick benefits our economy, as do the savings on health expenditure that flow from a fitter and healthier population
WHAT HAPPENS AFTER AUSKICK
Once your child completes the Auskick program, depending on their age you can register them into Superstars Junior Football or our junior football (u8.5's – u10'.5s)
Superstars Junior Football is for players born between:-
1/7/2014 – 30/6/2016 WHO HAVE GRADUATED FROM THE NAB AFL AUSKICK PROGRAM

To register for Superstars Junior Football CLICK HERE FOR SUPERSTARS

For all children older than this they will register into our junior football teams CLICK HERE FOR JUNIOR REGISTRATION
Jindalee Jaguars NAB AFL Auskick Contact
Tay Ede - 0413 612 780 Auskick@jindaleejags.com.au