Auskick Registration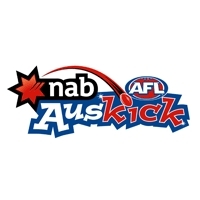 The NAB AFL Auskick program makes learning to play AFL fun, safe and easy for boys and girls. Through weekly coaching sessions they will learn the skills of the game in an exciting, social and safe environment. The AFL Auskick program has centres that operate all over the country, of which the Ferny Grove Falcons is one of them.
Children will have the opportunity to learn the fundamental motor skills vital for future physical activity and sport participation as well as learning how to interact with other children as part of a team in small group activities.
The program also provides a great opportunity for parents to interact with their kids through the activities, have the opportunity to make new friends, learn about the game and spend quality time with their children.
And above all else, Auskick is FUN!!
If your child is between the age of 5 and 12, use the link below to register for Auskick with the Ferny Grove Falcons.
REGISTER YOUR CHILD AT:
Our AUSKICK Centre Name is: "Ferny Grove JAFC Auskick"
AUSKICK DETAILS
Day: Friday
Time: 5:00 - 6:00pm (60 mins)
Start Date: 1st March 2019
End Date: 3rd May 2019
Cost: $80
** Please Note: Registrations can only be completed online, so please register your child/ren via the link above.