Girls Footy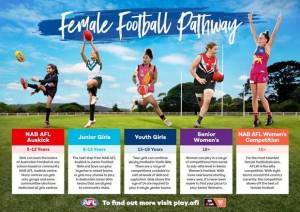 At Wests Juniors, we pride ourselves on having a very strong Female Football Program.
In 2019, Wests Juniors fielded 6 female teams in the Brisbane Juniors competition, with teams playing in all offered age groups.
One of our U13 teams and our U15 team played in their respective Division 1 Grand Finals. Our U15 team won the 2019 Division 1 Competition.
With the restructure of girls football in 2020, Wests Juniors will again be fielding teams in all age groups. Despite the negative publicity in the media, we are confident that our girls will continue to enjoy a challenging competition in 2020.
From AFLQ.....
There has been significant growth in female football over recent years offering more opportunity for females to play the sport than ever before.
Our 2019 participation numbers in female youth football indicate there may not be enough teams to support two competition offerings in 2020. If there is growth in team nominations in 2020 both competition offerings for youth football participants may be available.
What does this mean for the female Conference Competition?
In terms of the female Conference Competition we're awaiting team nominations before determining the structure of this competition.
While the growth across the female space has been significant sustained growth across all female age categories will build additional capacity to offer greater flexibility in match and competition fixturing.