History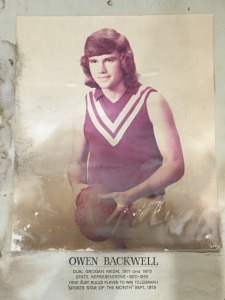 Wests Juniors is a Australian Football League junior club located at Oakman Park, Union Street, Toowong in Brisbane's inner west.
The club was established in 1970, with antecedent clubs going back to 1928. Wests Juniors teams compete in the AFL Brisbane juniors and youth competitions.
The club operates with the support of volunteers in all roles and relies on parents and carers to take up the various roles ranging from match-day officials to management committee member.
Photo
Owen Backwell. Dual Grogan Medallist (1971-75) who played 323 games and kicked 767 goals for Wests through the 1970s and '80s to rank second only to Syd Guildford on the official QAFL games list and head the goal-kicking list. Also played more than 20 games for Queensland. A born and bred Queenslander and a product of Wests Juniors, he was honored in 2003 when named in a forward pocket next to Jason Dunstall and Ray Hughson in the Queensland Team of the Century.
Was a brilliant goal-kicking rover who topped the QAFL goal-kicking in 1977 and played a key role in the Bulldogs' premierships in 1977-78. Had a short stint at Fitzroy in 1969. Son Brett played a handful of games at Carlton, won a Liston Medal in the AFL and a Magarey Medal in the SANFL.