Club uniform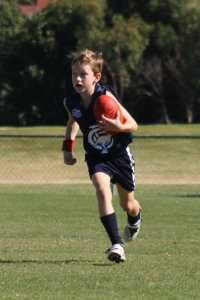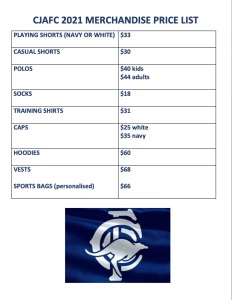 Players Uniform
In the pre-season (before games start), please check our Facebook site and Instagram page for uniform shop opening hours. During season, any uniforms or merchandise (caps, hoodies, vests, polos) are available for purchase during the canteen opening hours.
Under 6 – Under 11 (Juniors): Club polo for training and arriving to games, navy shorts and navy socks. All items listed available from Club uniform shop
Under 12 – Under 17 (Youths): Club polo for training and arriving to games, training shirt is supplied (please see coach for supply), navy socks, navy shorts for home games and white shorts for away games.
Coorparoo CJAFC Guernseys are supplied by the club and will be handed out by the team coach/manager.
Football boots with no metal studs are to be worn and finger nails are to be kept short.
Mouth guards
Are not compulsory for junior, compulsory for youths. At CJAFC we highly recommended getting a proper fitting mouthguard made every season. CJAFC has partnered with Coorparoo Dental and Denture Clinic who provide professionally fitted mouthguards and unbeatable service. Mouthguards are fully claimable on private insurance. The CJAFC also received $5 for every mouthguard purchased from Sandra and Tony Wood, so you help out your Club as well:
Coorparoo Dental & Denture Clinic
277 Old Cleveland Rd
Coorparoo
07 33977866
Skins
Skins (or the like) MUST be flesh tone in color as approved by AFLQ Brisbane Juniors. The Club can be fined for failing to comply with this rule. Black/other color bike shorts cannot be worn.
AFL Game Guernseys
Guernseys are issued to players for the season, please note it is the players responsibility to look after the guernsey and return it to their team manager at the end of the season. To assist with keeping guernseys in good condition we ask that it is only worn on game days. Players will keep the same numbered guernsey for the full season.
Sports Bag
Most Youth football venues will provide a change room, so if players could bring a sports bag to game days with all their gear, this will assist with minimising lost property, please also be sure the players name are on club shirt and sports bag. Personalised Coorparoo football bags are for sale at the canteen.
Water Bottles
Team water bottles will be used during games, but please include a spare water bottle in players bag for after the game as the players will have worked up a thirst and need to rehydrate. Water carriers during game days will refill the team water bottles after the half time break.
Club Merchandise
Support the our Club by purchasing merchandise. Caps (avaiable in white or navy), navy hoodies, navy puffer vests and supporter polos look great for every member of the family can be bought from the Coorparoo JAFC canteen.