All About Auskick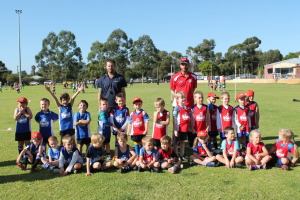 Auskick is played on Saturday mornings at the Muchea oval - 8.30am to approx 10.30am.
Auskick is for Pre-Primary to Year 2 boys & girls.
The kids are placed in age relevant teams. They do drills & skills & then a mini game. There will be a number of mini ovals set-up on the big oval.
Kids will need comfortable shorts & runners or football boots & a water bottle.
We have football shorts available at the club & some 2nd hand boots.
The Coaches will have the footy jumpers that are handed out each week.
Each team will require a Coach and an Assistant.
Start Date - SATURDAY 8th May 8.30am
---
Registrations
The process for Auskick registrations has recently changed.
Registrations for Pre-Pimary to Year 2 are done on-line at www.aflauskick.com.au
The fees must be paid on-line at the same time as registering.
Kidsport funding is available to eligible families to assist with fees.
If you are claiming Kidsport, you will need to submit your application on-line first before
registering for Auskick.
For Kidsport, go to www.dsr.wa.gov.au & submit your application. When you have been allocated your Kidsport code, go to the Auskick website to register & enter the code in the payment section.
Your child's Backpack will be posted directly to you once the fees have been paid (or Kidsport code entered).
---
Fees - $110 per child
---
Any queries, contact Michelle Udy: cjfcregistrar@hotmail.com