Club Umpire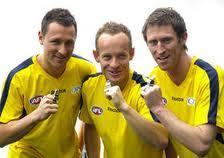 The club umpire accreditation process has been simplified for 2015 making it easier to understand and easier to complete. All Club appointed field umpires must complete this process to avoid losing Club of the Year points. I have outlined the process below if you can please pass this onto any person at your club who will be club umpiring games this year.
1. Complete Online Footyweb Registration – click on the link and follow the steps:- https://reg.sportingpulse.com/v6/regoform.cgi?aID=7428&pKey=24531b0b96cccf3263b73bf037fa8a2d&cID=168907&formID=37437
2. Complete Online Theory Component – Open the link http://www.learningseat.com/servlet/ShopFrontPage?companyId=AFLCOMMUNITYCLUB, click on umpiring and select AFL Club Umpire Program. Add to cart and follow the steps. This must be completed by the first match. Once this is completed, all club umpires need to ensure that they print the Statement of Attainment Certificate and keep a copy – this will also need to be handed in to AFL Sydney. This course is free to complete online and should take less than half an hour.
3. Complete Competency Checklist Practical - At the end of the On-line Theory Accreditation you will have to complete the Field Umpire Checklist (attached). The umpire needs to be assessed by a Team Official from the opposing club, a League appointed umpire or a League official during an AFL Sydney match.
4. Once the Practical Competency and On-Line Theory has been successfully completed, both forms should then be sent to AFL Sydney whereby the umpires accreditation details will be updated on Footyweb to reflect the successful completion.
Any questions please let me know.
Ben Bittner
0439 446015