Club Overview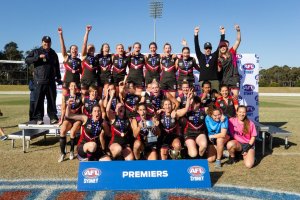 The Macquarie University Australian Football Club (MUAFC) competes in the AFL Sydney competition, with teams featuring in the Men's, Women's and Under 19's divisions.
Formed in 1969 as the "Kookas", MUAFC has an extremely proud and successful history, winning five premierships since 1998. Between 1998 and 2000, the Men's team won a record three consecutive titles. The club's most recent success was the Women's Premier Division Premiership in 2019, the second women's premiership for the club.
In 2008, MUAFC formally joined forces with Macquarie University to become known as the 'Warriors,' developing into one of Macquarie University's largest sporting clubs.
The club has since won the University's 'Club of the Year' twice in 2018 and 2019.
Australian Football is among the country's most popular sports, and MUAFC reflects its core values by being fun, social and competitive within an all-inclusive environment.
The club welcomes players of all ages and experience levels as it looks to continue its wave of success for many years to come.
---
Training
Training is held on Tuesday and Thursday nights from 6.30pm - 8.30pm at University Oval (Culloden Road, North Ryde).

Pre-season training usually begins late January.
---
Season information
Games are scheduled from April to August, with finals being held in September.
Home games are played at University Oval (Culloden Road, North Ryde), and away games are played at various locations around Sydney. A fixture is provided by the club well in advance of the opening round.
---
Social media
Facebook: www.facebook.com/muafc and www.facebook.com/muafcwomen
Instagram: @macuni.afl
Twitter: @muafc