Stats Central Rd 11: Oakleigh charges at Geelong
The Oakleigh Chargers got closer than any team to the Geelong Falcons during their current nine-match winning streak, going down by just six points at Simonds Stadium in Round 11.
The Falcons have now defeated six of their seven top-eight rivals and are easily the TAC Cup's top-ranked team for points scored. But even without eight first-choice players missing to Vic Metro duties at the NAB AFL U18 Championships, the Chargers put the clamps on Geelong with pressure-packed play.
They may have lost the counts for disposals, contested possessions, clearances and inside-50s, but Oakleigh won the tackle count with an impressive 97 and forced the Falcons to handball more than they kicked.
Adam Tomaro and Dion Johnstone led the way with 11 tackles apiece, while William Goss laid 10 and Xavier Jordan and Charlie Thompson had nine. All five players were in the top nine tacklers in the TAC Cup for Round 11.
The Geelong Cats experienced what pure pressure can do when St Kilda upset the premiership favourites in the AFL last week. No matter what ladder position a team is in or what cattle it has on the park, effort without the ball can level any contest up.
In other key stats from Round 11:
7: 16-year-old Jordan Johnston did everything he could for the North Ballarat Rebels in their heart-breaking loss to the Sandringham Dragons. The 182cm forward kicked seven of his team's 13 goals from 14 disposals and eight marks, including four majors in the first quarter. Teammate Callan Wellings also had a game-high 32 disposals, but their efforts couldn't bring home the four premiership points.
21: Kade Renooy has been one of the Gippsland Power's most consistent ball-winners this season, but he probably wouldn't have predicted his 21 disposals would be a team-high in a 50-point victory over the Western Jets. The Power may only have had 251 disposals against the Jets, but they made them count by booting 18 goals – that's a major every 13 touches.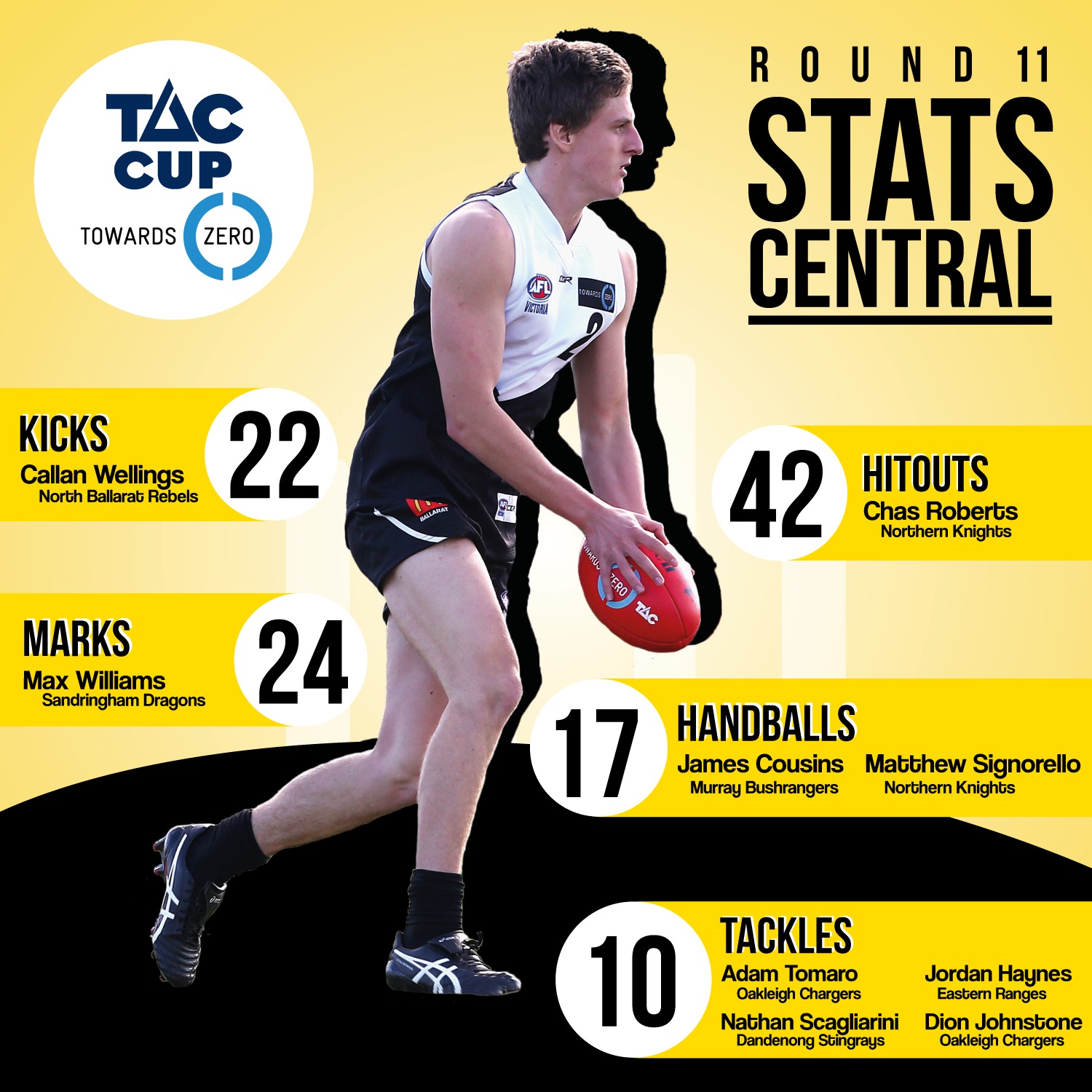 Round 11 stats leaders:
KICKS
Callan Wellings
North Ballarat Rebels
22
Isaac Miller
Bendigo Pioneers
21
Ben Paton
Murray Bushrangers
21
Jamieson Sheahan
Bendigo Pioneers
20
Lachlan Murphy
Northern Knights
20
Nathan Scagliarini
Dandenong Stingrays
19
Laine Fitzgerald
Bendigo Pioneers
17
Tyson Lever
Calder Cannons
17
Tate Marsh
Gippsland Power
17
Kade Renooy
Gippsland Power
17
Jake Bradley
Northern Knights
17
Joshua Begley
Eastern Ranges
16
Fletcher Carroll
Murray Bushrangers
16
Jaidyn Owen
Calder Cannons
15
Jordan Haynes
Eastern Ranges
15
HANDBALLS
James Cousins
Murray Bushrangers
20
Matthew Signorello
Northern Knights
20
Xavier Jordan
Oakleigh Chargers
18
Lachlan Murphy
Northern Knights
17
Paddy Dow
Bendigo Pioneers
15
Reuben Hayward
Sandringham Dragons
15
Issac Miller
Bendigo Pioneers
14
Fletcher Carroll
Murray Bushrangers
13
Jake McQueen
North Ballarat Rebels
13
Kane Nissenbaum
Sandringham Dragons
13
Lachlan Wilson
Northern Knights
13
Nicholas Giarrizzo
Western Jets
12
Jono Aujard
Oakleigh Chargers
12
Darby Henderson
Bendigo Pioneers
12
Ashley Krakauer
Sandringham Dragons
12
MARKS
Max Williams
Sandringham Dragons
12
James Cousins
Murray Bushrangers
10
Lachlan Tiziani
Murray Bushrangers
10
Jaidyn Owen
Calder Cannons
10
Trent McMullan
Murray Bushrangers
9
William Goss
Oakleigh Chargers
9
Isaac Miller
Bendigo Pioneers
8
Sam McLarty
Oakleigh Chargers
8
Laine Fitzgerald
Bendigo Pioneers
8
Mitchell Lewis
Calder Cannons
8
Aiden Domic
North Ballarat Rebels
8
Caleb Sheahan
Bendigo Pioneers
8
Kyle O'Conner
North Ballarat Rebels
8
Jordan Johnston
North Ballarat Rebels
8
Lachlan Murphy
Northern Knights
7
HITOUTS
Chas Roberts
Northern Knights
39
Nathan Mullenger-McHugh
Eastern Ranges
33
Ethan Casey
Sandringham Dragons
31
Hayden Elliot
Geelong Falcons
30
Ovie Magbegor
Calder Cannons
27
Dylan Atkins
Dandenong Stingrays
26
Joshua Boehm
Oakleigh Chargers
21
Brock McGregor
Western Jets
19
Todd Lawrence
North Ballarat Rebels
17
Ryan Kilpatrick
Murray Bushrangers
17
Kieran Jones
Gippsland Power
17
Nathan Twigg
Bendigo Pioneers
17
Jonty Neaves
Bendigo Pioneers
14
Shannon Beks
North Ballarat Rebels
13
Ned Reeves
Oakleigh Chargers
13
TACKLES
Adam Tomaro
Oakleigh Chargers
11
Nathan Scagliarini
Dandenong Stingrays
11
Jordan Haynes
Eastern Ranges
11
Dion Johnstone
Oakleigh Chargers
11
William Goss
Oakleigh Chargers
10
Callan McKeon
Gippsland Power
10
Lachlan Wilson
Northern Knights
10
Charlie Thompson
Oakleigh Chargers
9
Xavier Jordan
Oakleigh Chargers
9
Hayden Elliot
Geelong Falcons
8
Jackson McDonald
Calder Cannons
8
Fletcher Carroll
Murray Bushrangers
8
Brad Bernacki
Calder Cannons
8
Joshua Begley
Eastern Ranges
8
Jake McCormack
Eastern Ranges
8
2016 LEADING GOALKICKERS
Goals
Total
Karl Brown
Calder Cannons
7
38
Brett Blair
Geelong Falcons
1
30
Sam Fowler
Dandenong Stingrays
VIC
26
Kayle Kirby
Bendigo Pioneers
INJ
21
Dan Allsop
Dandenong Stingrays
4
20
Muhammad Saad
Calder Cannons
1
20
Jordan Johnston
North Ballarat Rebels
7
20
Joshua Begley
Eastern Ranges
_
19
Jackson McLachlan
Geelong Falcons
2
18
Lachlan Tiziani
Murray Bushrangers
4
17
* Photo: Brian Bartlett
Related content:
Stats Central Rd 10: Jets jolt the Chargers
Stats Central Rd 9: Knights charge forward
Stats Central Rd 8: Potent Power on the board
Stats Central Rd 7: Falcons fly to five straight
Stats Central Rd 6: Rebels turn things around
Last Modified on 28/06/2016 18:40