Stats Central Rd 12: Sandy seizes chances
There haven't been many chances to talk about how a team defeated the Geelong Falcons in 2016, but post-Round 12 is one of those occasions.

The Sandringham Dragons snapped ladder-leading Geelong's nine-match winning streak by six points at Avalon Airport Oval on Saturday, inflicting just its second loss for the season.
Both teams were missing key players due to the NAB AFL U18 Championships finishing the previous Wednesday – and particularly Sandringham, which may go some way to explaining why the second-placed Dragons didn't have much on their side statistically against the Falcons.
However, they'll be encouraged to have still finished on top where it counts – the scoreboard. Sandringham may have lost the counts for disposals, marks, contested possessions, clearances, inside-50s and scoring shots, but can thank some special work at both ends for the triumph.
While Geelong was relatively wasteful in front of goal with 9.12, 196cm 17-year-old Hayden McLean was representative of a Dragons team that took its chances when they arose, booting three goals in the crucial third quarter and four for the match.
And if the Falcons didn't find a target in attack, Sandringham was highly effective at rebounding the ball from its defensive 50. Reuben Hayward (four rebound-50s) and Max Williams (three) were named among Sandringham's best, and along with Liam Murphy (six rebound-50s), regularly thwarted opposition attacking chains when they earned those precious chances.
In other key stats from Round 12:
28: Jamieson Sheahan wasn't afraid to use his feet in the Bendigo Pioneers' loss to the Calder Cannons, recording 28 kicks – six more than any other TAC Cup player in Round 12. The over-ager is the fourth-ranked player in the competition for total kicks in 2016 and his teammates certainly like the ball in his hands, with Sheahan accepting a clear game-high 12 handball-receives last week.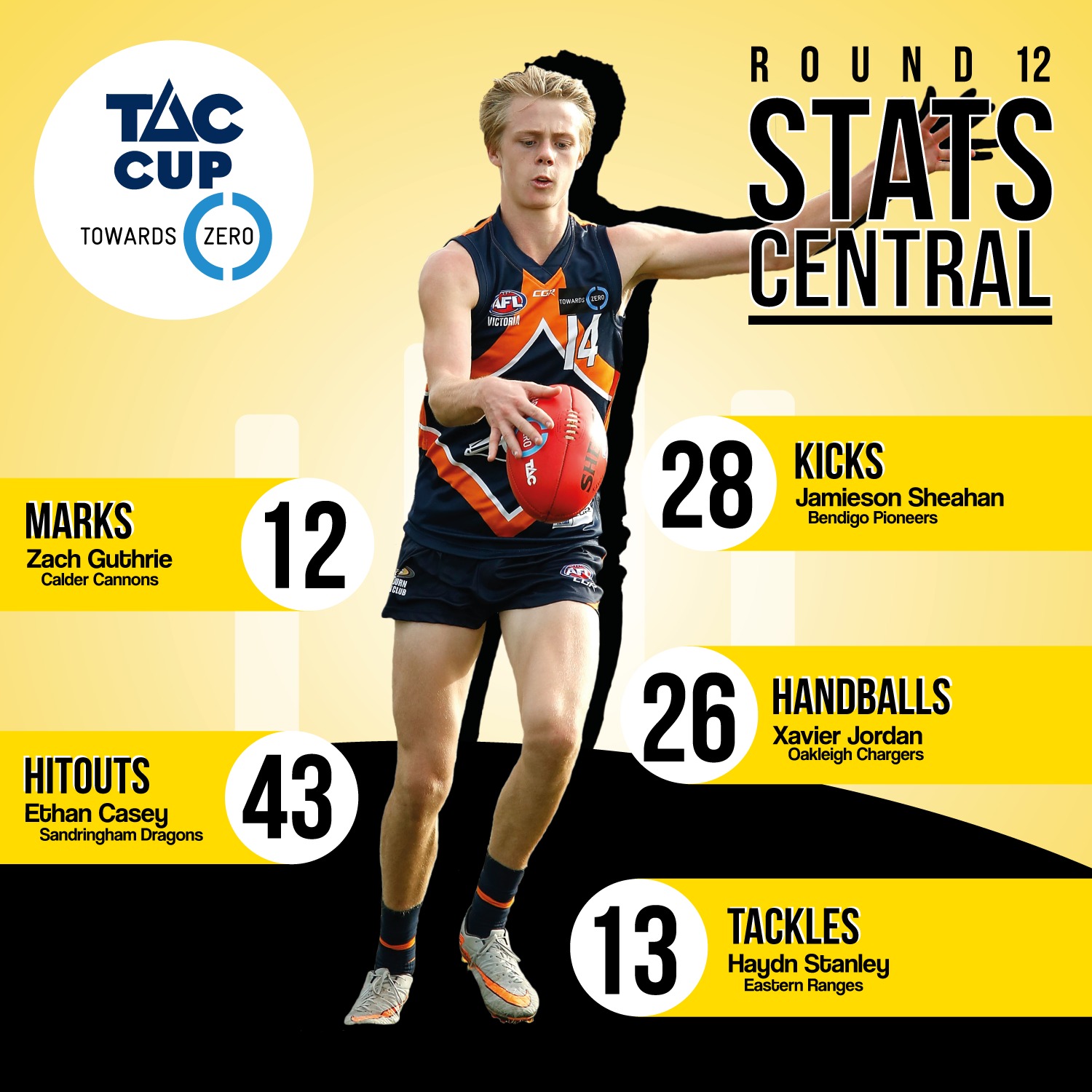 Round 12 stats leaders:
KICKS
Jamieson Sheahan
Bendigo Pioneers
28
James Gow
North Ballarat Rebels
22
Callum Porter
Gippsland Power
20
Daniel Foley
Western Jets
20
Ben Ronke
Calder Cannons
19
Fletcher Carroll
Murray Bushrangers
17
Kane Farrell
Bendigo Pioneers
16
Benjamin Caluzzi
Calder Cannons
16
Zach Guthrie
Calder Cannons
16
Callan Wellings
North Ballarat Rebels
16
Lachlan Walker
Oakleigh Chargers
16
Paddy Dow
Bendigo Pioneers
15
Thomas Glen
Dandenong Stingrays
15
Harry Morrison
Murray Bushrangers
15
Kyle O'Conner
North Ballarat Rebels
15
HANDBALLS
Xavier Jordan
Oakleigh Chargers
26
Matthew Signorello
Northern Knights
24
Charlie Thompson
Oakleigh Chargers
21
Lachlan Walker
Oakleigh Chargers
20
Jack Higgins
Oakleigh Chargers
19
Paddy Dow
Bendigo Pioneers
18
Ari Sakeson
Sandringham Dragons
15
Ryan Carter
Western Jets
15
Thomas Glen
Dandenong Stingrays
14
Jono Aujard
Oakleigh Chargers
14
Cassidy Parish
Geelong Falcons
14
Doulton Langlands
Murray Bushrangers
14
Darby Henderson
Bendigo Pioneers
14
Lachlan Murphy
Northern Knights
13
Matthew La Fontaine
Dandenong Stingrays
13
MARKS
Zach Guthrie
Calder Cannons
12
Jake Page
Murray Bushrangers
10
Chas Roberts
Northern Knights
9
James Gow
North Ballarat Rebels
9
Ben Ronke
Calder Cannons
9
Karl Brown
Calder Cannons
9
Toby Wooller
Oakleigh Chargers
9
Brad Bernacki
Calder Cannons
8
Kyle O'Conner
North Ballarat Rebels
8
Benjamin McNamara
Geelong Falcons
8
Ben Barton
Calder Cannons
8
Kane Farrell
Bendigo Pioneers
8
Harry Morrison
Murray Bushrangers
8
Jarrod Brander
Bendigo Pioneers
8
Jake Bradley
Northern Knights
7
HITOUTS
Ethan Casey
Sandringham Dragons
43
Ned Reeves
Oakleigh Chargers
28
Chas Roberts
Northern Knights
18
Brock McGregor
Western Jets
18
Dylan Atkins
Dandenong Stingrays
18
Nathan Mullenger-McHugh
Eastern Ranges
17
Floyd Bollinghaus
Murray Bushrangers
15
Shannon Beks
North Ballarat Rebels
14
Kieran Jones
Gippsland Power
14
Hayden Elliot
Geelong Falcons
13
Todd Lawrence
North Ballarat Rebels
13
Jacob McNicol
Calder Cannons
12
Riley Ham
Western Jets
12
Ryan Kilpatrick
Murray Bushrangers
12
Tristan Xerri
Western Jets
11
TACKLES
Haydn Stanley
Eastern Ranges
13
Connor Griffiths
Western Jets
12
Callan McKeon
Gippsland Power
11
Lachlan Huppatz
North Ballarat Rebels
10
Ben Paton
Murray Bushrangers
10
Harrison Bult
Western Jets
9
Kye Beveridge
Sandringham Dragons
9
Lachlan Young
Dandenong Stingrays
8
Oscar Junker
Western Jets
8
Lockey McCartney
Geelong Falcons
8
Naish McRoberts
North Ballarat Rebels
7
Callan Wellings
North Ballarat Rebels
7
Will Leslie
Gippsland Power
7
Goy Lok
Sandringham Dragons
7
James Cousins
Murray Bushrangers
7
2016 LEADING GOALKICKERS
Goals
Total
Karl Brown
Calder Cannons
3
41
Brett Blair
Geelong Falcons
1
31
Sam Fowler
Dandenong Stingrays
VIC
26
Kayle Kirby
Bendigo Pioneers
2
23
Lachlan Tiziani
Murray Bushrangers
6
23
Dan Allsop
Dandenong Stingrays
2
22
Jordan Johnston
North Ballarat Rebels
2
22
Muhammad Saad
Calder Cannons
INJ
20
Joshua Begley
Eastern Ranges
_
19
Hayden McLean
Sandringham Dragons
4
19
* Photo: Sandringham's Max Williams gathers the ball in defence against Geelong
Related content:
Stats Central Rd 11: Oakleigh charges at Geelong
Stats Central Rd 10: Jets jolt the Chargers
Stats Central Rd 9: Knights charge forward
Stats Central Rd 8: Potent Power on the board
Stats Central Rd 7: Falcons fly to five straight
Last Modified on 05/07/2016 16:48