Stats Central Rd 10: Jets jolt the Chargers
The Western Jets' triumph over the Oakleigh Chargers was particularly important for head coach Torin Baker's group.
Baker knew a loss would have been a big blow to Western's finals hopes and clearly had his troops in a do-or-die mindset at Warrawee Park on the weekend.
Despite losing the counts for disposals (by 34), marks (by 13), hitouts (by 22) and clearances (by seven), the Jets won by 33 points on the back of what they did without the ball.
Seven Western players recorded five or more tackles (led by Connor Griffiths with a game-high eight) to continually pressure the Chargers into error. They may not have had as much of the ball as Oakleigh, but their +17 differential in tackles led to a +18 advantage in inside-50s and eight more scoring shots.
A fourth win allowed the ninth-placed Jets to keep pace with three 4-6 teams above them on the ladder, including the Chargers. The stakes were high and clearly Baker's boys answered his call for desperation.
In other key stats from Round 10:
34: Jackson McDonald had just about the complete game for the Calder Cannons in their triumph over the Eastern Ranges, recording a game-high 34 disposals, 19 contested possessions, 10 tackles, eight clearances, seven inside-50s, a goal and two score assists. The 18-year-old was clearly able to do whatever coach Andrew Johnston asked of him – and probably more.
8: Esava Ratugolea had a day out in the Murray Bushrangers' big win against the Bendigo Pioneers, putting eight goals on the board in just his fifth TAC Cup match. The 194cm 17-year-old has already kicked 13 goals in just three games this year after making two appearances for the Bushrangers in 2015. His teammate Lachlan Tiziani also contributed five majors in Sunday's victory.
Round 10 stats leaders:
KICKS
Darby Henderson
Bendigo Pioneers
24
Thomas North
Eastern Ranges
24
Goy Lok
Sandringham Dragons
23
Kade Renooy
Gippsland Power
22
Callan Wellings
North Ballarat Rebels
22
Laine Fitzgerald
Bendigo Pioneers
21
Juhdan Dundon
Western Jets
20
Campbell Lane
Oakleigh Chargers
19
Billy Cannolo
Calder Cannons
18
Tyson Lever
Calder Cannons
18
Daniel Sharrock
Murray Bushrangers
18
Daniel Foley
Western Jets
18
Ben Ronke
Calder Cannons
17
Josh Bateman
Dandenong Stingrays
17
Harrison Burt
Sandringham Dragons
17
HANDBALLS
Charlie Thompson
Oakleigh Chargers
22
Jackson McDonald
Calder Cannons
20
Jono Aujard
Oakleigh Chargers
18
Joseph Atley
Bendigo Pioneers
18
Nicholas Richards
Murray Bushrangers
17
Bobby Lamanna
Northern Knights
16
Nathan Scagliarini
Dandenong Stingrays
15
Josh Trew
Sandringham Dragons
15
Darby Henderson
Bendigo Pioneers
14
Matthew King
Oakleigh Chargers
14
Ben Paton
Murray Bushrangers
14
Mitch Diamond
Geelong Falcons
13
Max Augerinos
Geelong Falcons
13
Xavier Jordan
Oakleigh Chargers
13
Harry Jones
Murray Bushrangers
13
MARKS
Jono Aujard
Oakleigh Chargers
10
Benjamin McNamara
Geelong Falcons
10
Kade Renooy
Gippsland Power
10
Daniel Sharrock
Murray Bushrangers
10
Lachie Wallace
Bendigo Pioneers
10
Lachlan Tiziani
Murray Bushrangers
9
Campbell Lane
Oakleigh Chargers
9
Jordan Rosengren
Bendigo Pioneers
9
Esava Ratugolea
Murray Bushrangers
9
Darby Henderson
Bendigo Pioneers
8
Matt Perry
Northern Knights
8
Mitch Podhajski
Calder Cannons
8
Louis Pinnuck
Murray Bushrangers
7
Connor Larkin
Sandringham Dragons
7
Joel Bennett
Geelong Falcons
7
HITOUTS
Chas Roberts
Northern Knights
42
Dylan Atkins
Dandenong Stingrays
35
Ovie Magbegor
Calder Cannons
30
Sam Hayes
Eastern Ranges
29
Todd Lawrence
North Ballarat Rebels
25
Kieran Jones
Gippsland Power
24
Ned Reeves
Oakleigh Chargers
23
Joshua Boehm
Oakleigh Chargers
21
Max Lynch
Murray Bushrangers
19
Nathan Twigg
Bendigo Pioneers
18
Trent McMullan
Murray Bushrangers
16
Joshua Gibbins
Sandringham Dragons
16
Joel Grace
Northern Knights
15
Hayden Elliot
Geelong Falcons
14
Harrison Goss
Eastern Ranges
13
TACKLES
Tyson Lever
Calder Cannons
17
Jamaine Jones
North Ballarat Rebels
12
Thomas North
Eastern Ranges
11
Jordan Johnston
North Ballarat Rebels
11
Jackson McDonald
Calder Cannons
10
Ben Paterson
Northern Knights
10
Joseph Atley
Bendigo Pioneers
10
Jordan Haynes
Eastern Ranges
10
Dan Allsop
Dandenong Stingrays
9
Nathan Scagliarini
Dandenong Stingrays
9
Josh Trew
Sandringham Dragons
9
Keenan Hughes
Gippsland Power
8
Will Stephenson
Gippsland Power
8
Trent Armour
Gippsland Power
8
Connor Griffiths
Western Jets
8
2016 LEADING GOALKICKERS
Goals
Total
Karl Brown
Calder Cannons
4
31
Brett Blair
Geelong Falcons
2
29
Sam Fowler
Dandenong Stingrays
DNP
26
Kayle Kirby
Bendigo Pioneers
3
21
Joshua Begley
Eastern Ranges
2
19
Muhammad Saad
Calder Cannons
3
19
Dan Allsop
Dandenong Stingrays
_
16
Jack Henry
Geelong Falcons
2
16
Jackson McLachlan
Geelong Falcons
_
16
Tom De Koning
Dandenong Stingrays
DNP
16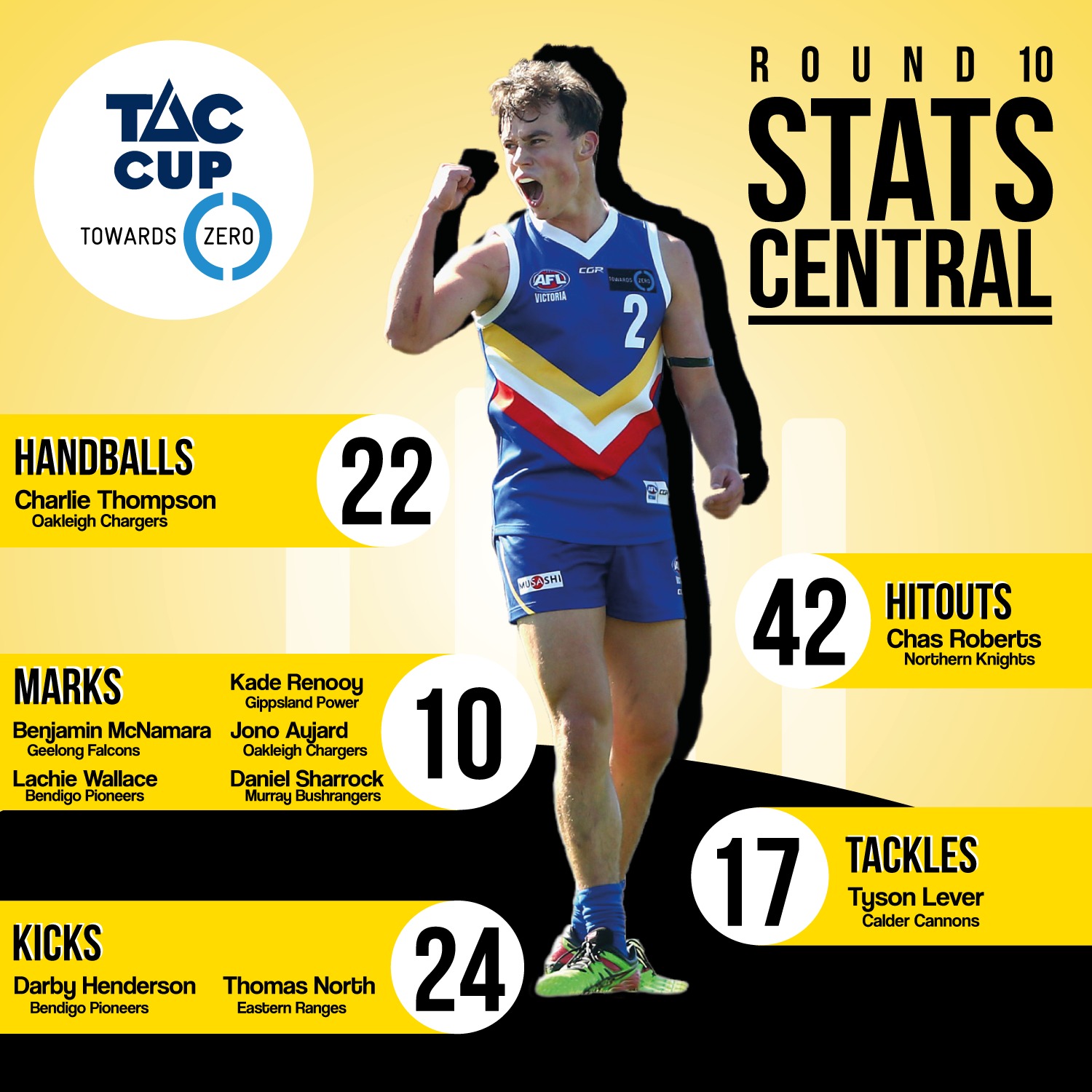 Related content:
Stats Central Rd 9: Knights charge forward
Stats Central Rd 8: Potent Power on the board
Stats Central Rd 7: Falcons fly to five straight
Stats Central Rd 6: Rebels turn things around
Stats Central Rd 5: Big bag for Brown
Last Modified on 21/06/2016 19:36