2022 Feb Board Update
Key dates and information for your information are as follows:
Tuesday 22 March 2022: AGM at Mungavin Pavilion
26 and 27 March: pre-season tournament for entry into TRA comp
7 May 2022: start date for Mungavin competition
3 and 4 May 2022: start date for TRA competition
New Centre Administrator appointed
Rep Coaches appointed
Fees remain the same for 2022 season
Change in rule - 2 or more teams in a grade (applies to Premier 1-3 and Championship A only)
Vaccination from Covid-19 required for all players aged 12 and over
New Centre Administrator – Rui Hobson
We are pleased to announce that Rui Hobson has joined the team. Rui is the Centre Administrator who will look after the day to day activities of Kapi Mana Netball Centre. This includes managing the Centre's operations and facilities and ensuring that we are paying our bills. Thank you to NZCT who is funding part of Rui's salary. Rui can be contacted on 020 437 6252 or email admin@kapimananetball.org.nz
We are currently in the process to appoint a Game Administrator/Development Coordinator.
Representative Coaches appointed
We have appointed our head coaches for the 2022 Rep Season:
Pohoira Clay – U14
Becky Meroiti – U16
Terry Isaako – U18
They are excited to be appointed and are looking forward to getting involved with our Talent ID programme starting soon. Welcome aboard team.
Fees for 2022
Fees for next year will be status quo (note that there appears to have been an error made last year for junior teams when a lower invoice was sent out but for 2022 fees will return to normal). Note we are still considering the fees for the Social Comp at TRA.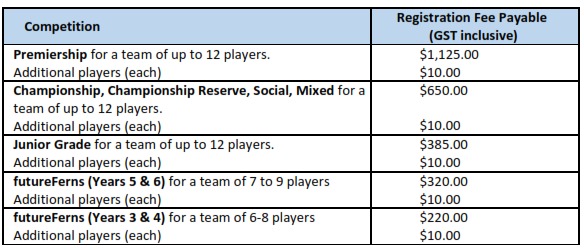 Format for 2022
Te Rauparaha competition – Tuesday / Wednesday
- The competition dates will be 3rd and 4th May ending in August.
- Given the "unknown" impacts of Covid, a decision has been made to apply a Round Robin format for the Premier Competition played on a Wednesday. If the season is cut short , then the positions will be based on the last full round played.
- The pre-season Prem 3 tournament will be held on the weekend of 26 and 27 March. This will determine the teams playing in Premier 3 grade this year. Invitees will be the 3rd, 4th and 5th placed teams in Prem 3 last year and the 2nd, 3rd and 4th placed teams from Championship. The top three teams will join two teams already placed in Prem 3. This will the competition to have relevant (skill and ability) teams placed. It also provides a pathway and opportunities for teams to transition to the TRA competition from Mungavin. A separate email will be sent to invitees shortly with the format.
- Subject to numbers, there will be a Social Competition on Tuesdays at TRA. Mixed teams will also be considered but there will be rules for males playing in the Mixed teams. More information on this to follow.
- KMNC are not yet in a position to run an all-male competition but do watch this space.
Mungavin competition - Saturday
- We will continue to have the championship grade. This worked well for its first year and supports our plans to have a pathway into the premier grade.
- We will introduce a new grade of championship-reserve which will be for colleges and have no adult teams. Although it was mixed this year, it was always our intention to have a space for our rangatahi who want to play against their own peer group.
- Depending on numbers of teams there will be 3 – 4 rounds of grading, 10 weeks of competition, play offs for junior and championship reserve, and ANZ-final format for Championship
- Preliminary dates are 7 – 28 May grading rounds, 1 June – 20 August for competition rounds and 27 August – 10 September finals.
- We will continue to have a Saturday social grade.
Change in rule - 2 or more teams in a grade (applies to Premier 1-3 and Championship A only)
From this season, Clubs/Schools are NOT restricted to the number of teams playing in any section of a Competition, i.e. 2+ teams from the same Club/School can be in a section of a Competition.
The following rule will be applied to Premier 1-3 and Championship A only:
Where there is more than one team from the same Club/School in the same grade, there can be player movement to the higher placed teams but no movement to lower placed team. Once a player has played twice for the higher placed team, they must stay in that team.
AGM – Change of date to Tuesday 22 March 2022
Due to a clash, we have had to move the AGM to Tuesday 22 March 2022 (it was previously 15 March). The venue will be Mungavin Hall. Papers will be out by within the next fortnight.
Covid – 19 policies
I thought I would give you a quick heads up on the Boards intentions to manage the impacts of Covid-19 this year specifically under the red traffic light settings. Primarily, we will be following public health guidance, Netball New Zealand guidance, Sports NZ and Porirua City Council guidance. As you can see in the media, the situation continues to change, and this makes it difficult to plan a season. Right when we think we have the dates and format sorted, we receive further advice.
In terms of our vaccination requirements, our primary goal is to keep everyone safe while ensuring least disruption to our teams.
Our intention is to:
Require all our players, coaches, and umpires aged over 12 years to be vaccinated in order to take the court: it will be up to Clubs/Schools to confirm players are vaccinated. Te Rauparaha Arena will require vaccination passes to enter.
At Mungavin (Outdoor venue):
There will be a limit of people to 25 people per court at Mungavin Park. This includes two teams of players, Coach and Manager and two umpires.
We're asking Clubs and Schools to advise their spectators to watch from outside the court.

Because we are an outside venue, and we have no way to enforce mandatory vaccinations on our spectators, please also ask your spectators to remain 2 metres apart from players and that they watch from outside the fence.

There will be access to the bathroom but no access to kitchen or seating within the pavilion.

We are yet to confirm availability with our Coffee vendor and will advise you of their processes.
For TRA (Indoor venue)
PCC have advised that every person entering must have a vaccine pass
Only 100 people are allowed though that includes all of the TRA staff
No spectators will be allowed
Entry and exit points will be confirmed nearer to the season.
For more guidance see the health website:
https://covid19.govt.nz/traffic-lights/life-at-red/sport-and-recreation-at-red/sport-at-red/play-active-recreation-and-sport-at-red-full-guidance-28-01.pdf (sportnz.org.nz)
We would appreciate it if you could communicate all of the above through to your teams, so players and spectators won't get a surprise when they turn up.
Thank you all for your support as we navigate our way through this.
Ngā mihi
Aroha Marsh
President
Kapi Mana Netball Centre
Last Modified on 23/02/2022 16:25