Winter Season 2022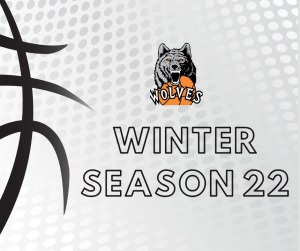 Junior & Senior
Winter Season
Competition starts week of July 11 (July-Dec)

JUNIOR Waiting List: Register | PlayHQ
Age Groups - 2022
Aussie Hoops for Ages 5-8 years Monday and Thursday Sessions this TERM are at Capacity.
Junior Domestic Competition
Under 08's 2015-2016 Friday night
Under 10's 2013-2014 Friday night
Under 12's 2011-2012 Friday night
Under 14's 2009-2010 Thursday night
Under 16's 2007-2008 Monday night
Under 18's 2005-2006 Monday night
Pooling
All our junior members are pooled by volunteer pooling coordinators. Pooling Coordinators will assign a junior member to a team (this process can take up to 2-3 days). These teams will be reviewed during the first 3 weeks of competition.The aim with pooling is get a balanced competitive competition. We can not always met friend requests.
Team Lists
The team lists are generally posted 3-4 days prior to the competition commencing on our webpage. Teams should consist of 7 players. Team Lists can be found HERE
Game Times
Depending on registrations will determine our game time schedule. Game times for our juniors can range between 4:30 pm and 8:30 pm. Fixtures can be found HERE
Uniforms
Please arrive 10 minutes prior to your scheduled game for collection of a uniform from your designated court. Your Coach or designated person will collect singlets and met courtside. All our junior members need to have paid a junior singlet levy which is refundable at the end of the season. All junior members are required to wear black basketball shorts (no pockets or stripes).
Coaching
Juniors are coached by volunteer parents. All volunteers must ensure that they have a Working with Children's Check card and be registered via PlayHQ.

Registration Fee
Players pay individual WBA Membership and Basketball Victoria License fees.
Basketball Victoria Country Affiliation Fee (BVCA Fee) $26
WBA $190 (inclusive fee for 1 Season)
Senior Domestic Competition

Division 2
Division 3
Division 4
Division 5
Social Women
Teams
All teams enter their own teams and are responsible for the management of the team. We recommend between 7-8 players but you can have more! This is a senior competition. Players should be 17 years or older.

Game Times
Depending on registrations will determine our game time schedule. Game times for our seniors can range between 6:40 pm and 10 pm. We aim to have the draw available at least 3-4 days prior to the start of our competition. HERE
Office
Our office is located between Courts 2 and 3.
Uniforms
All senior teams need their own playing uniforms with numbers on the front and back. Shorts should have no pockets and be of the same colour.
Registration Fee
Players pay individual WBA Membership and Basketball Victoria License fees
Basketball Victoria Country Affiliation Fee (BVCA Fee) $40
WBA $200 (inclusive fee for 1 Season)
All players must register via their team link which is available from the team contact or can be requested via email to wodongabasketball@gmail.com
For all other enquiries please email: wodongabasketball@gmail.com