2019 Footy Season Schedule
AFL Quebec is excited to announce the schedule for the upcoming 2019 footy season! Building on last year's expansion of the league to 5 teams, this year we will see several new innovations. There will also be an earlier end to the domestic season in 2019 to allow for a representative season to commence in mid-September with the focus of achieving victory at USAFL Nationals in Sarasota, Florida. New exciting aspects to look forward to are highlighted below:
· First ever Friday night Twilight footy round followed by a social event at our sponsor bar Mad Hatter Pub
· First women's doubleheader round, where each team will play a round-robin style two shortened games
· A condensed high-intensity winner takes all finals series over 8 days
· A 4-week representative Saints and Angels Season cumulating at US Nationals in Florida. Including a three-team tournament in New York City
In addition to the returning major events:
· Pony Platter vs the Ottawa Swans
· AFL Quebec Women's tournament & Saints friendly game vs Boston
So get ready for the best footy season ever in Quebec and plan your diaries accordingly!!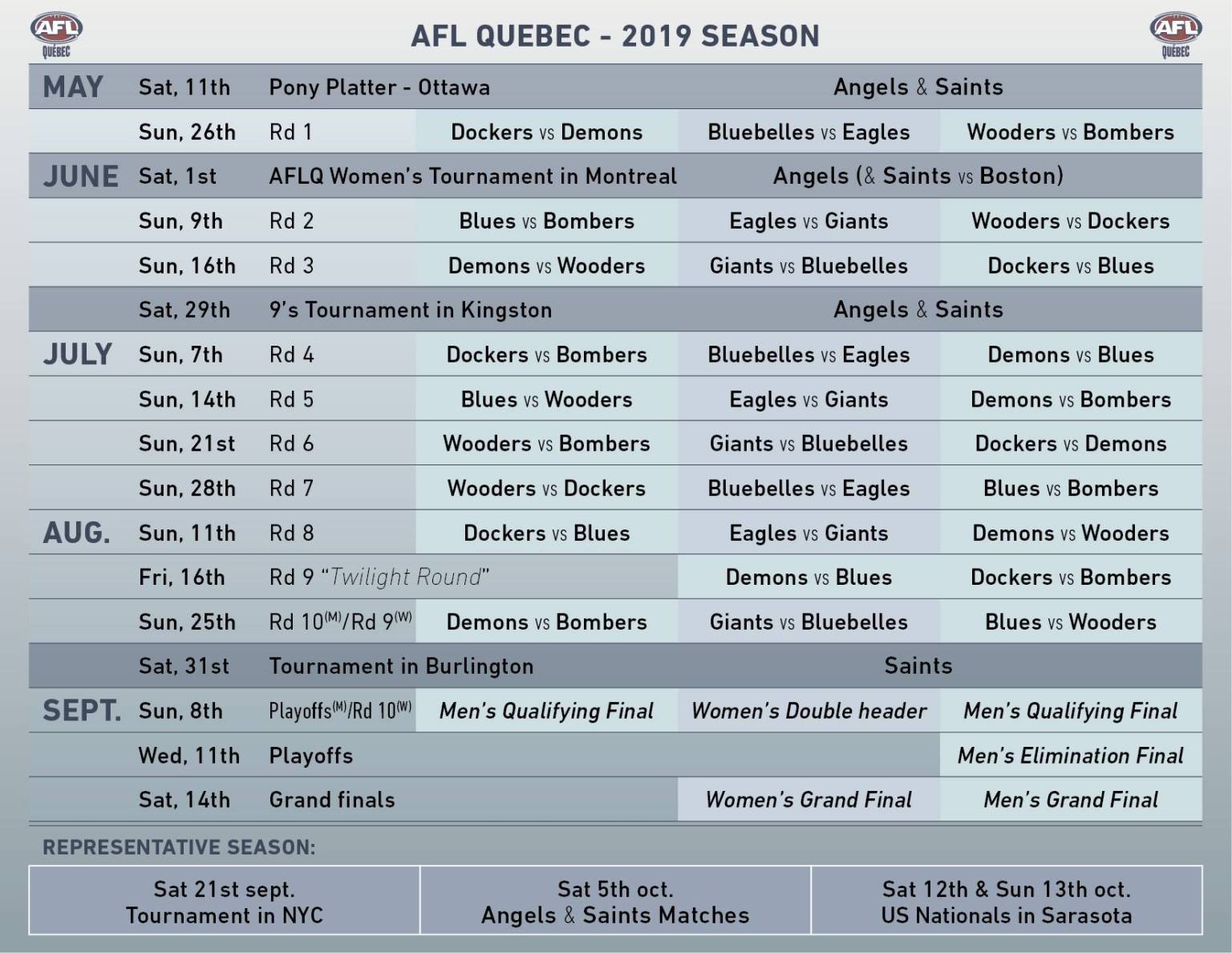 AFL Québec est heureux de dévoiler le calendrier de la saison de footy 2019 à venir! Grâce à l'expansion de la ligue à 5 équipes en 2018, nous verrons cette année plusieurs innovations. En 2019, la saison nationale s'achèvera plus tôt pour permettre le début d'une saison préparatoire à la mi-septembre, l'objectif principal étant de remporter la victoire au Championnat national de l'USAFL à Sarasota, en Floride. Les nouveaux aspects intéressants à anticiper sont expliqués ci-dessous: ·
· Premier round de foot nocturne Twilight du vendredi soir suivi d'un événement social à bar sponsor, le Mad Hatter Pub
· Premier programme double féminin, où chaque équipe disputera deux matchs abrégés à la ronde.
· Une séries finale à haute intensité « winner takes all » sur 8 jours
· Une saison préparatoire de 4 semaines des Saints et des Anges, culminant aux US Nationals de Floride, y compris un tournoi à trois équipes à New York
En plus des événements majeurs récurrents:
· Pony Platter vs les Ottawa Swans
· Tournoi féminin AFL Québec et match amical des Saints contre Boston
Préparez-vous pour la meilleure saison de footy de tous les temps au Québec et planifiez votre agenda en conséquence!
Last Modified on 13/04/2019 03:03