Vic Player Profiles
#15 Katie Brennan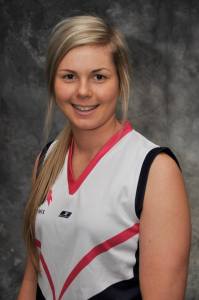 PLAYER STATS:
Age: 20
Height: 174cm
Place of Birth: Brisbane
High School: Our Lady's Collage
Occupation: ACCOUNTS PAYABLE ASSISTANT / STUDENT
Current VWFL Club: Darebin falcons
Club Jumper No.: 16


Position: Centre Half Forward
State Teams: 2009, 2011
AFL Debut: 1997 Logan Cobras JAFC
With both parents being Victorian, footy has always been in the blood. I started kicking a footy around the backyard from a young age with my big brother, pretending we were playing in the big league. He was my biggest idol so I followed in his footsteps joining Auskick as a 4 year old. After begging dad for a couple of years I finally had my big debut in Under 8s with my brothers team as they were a player short. I continued playing with the boys all the way through to under 14s, then moved to youth girls and Women's league. I have loved it ever since.
Football achievements:
- All Australian (2009, 2011)
- AFL –AIS Academy 2011
- High Performance Academy (2010, 2012)
- Under 18s All Australian and player of the Carnival (2010)
- Queensland Under 18s Captain (2007-2010)
- Being apart of 7 winning Premierships (2007 – 2012)
- Co- Captain Yeronga FC
- Best on Ground 2009 Grand Final
Favourite moment/highlight in playing career
There have three moments that I will always hold pretty close. Playing in my last year of Under 18s with the QLD girls, my first All Australian at Women's Nationals and being apart of the First ever Women's AFL draft. They have all been incredible experiences.
Any mantra or favourite quote that you live by or sums up your attitude towards your football.
Pain is momentary, but victory lasts a lifetime.