Home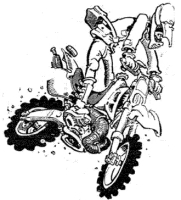 Welcome to the Maffra Sale Motorcycle Club Website
UPDATE - 24/03/2021
KEEP WATCHING THE WEBSITE FOR UPDATES.
For all other Club Enquiries call :-
John Miller (President) 0418 594 705
Justin Donoghue (Secretary) 0410 063 168
This Sunday - 28th March we are hosting an interclub MX racing day between Maffra-Sale Motorcycle Club and Bairnsdale Motorcylce club at the Newry complex, Tatterson Lane Newry.
New members welcome.
All participants must be a member of either Maffra Sale or Bairnsdale Motorcycle clubs - new members can sign up for membership on the day.
The event is running under the AMA membership/insurance scheme of which you must be a member and stongly advise to join AMA prior to Sunday.
Sign in is from 7:30am - 8:45 am - riders briefing at 8:50am Practice and racing will start immediately thereafter.
Entry is $40.00 for juniors and $50.00 for seniors.
Format will be graded classes plus non-competive classes for seniors and juniors - putting the fun back into Club Day Racing!!
Full canteen facilities available.
Any questions feel free to contact me John (MSMC President 0418 594 705) or 0410 063 168 Judd (MSMC secretary)
Cheers - Hope to see you there!
** IMPORTANT NOTICE
Any persons wishing to work or do maintenance at the Newry Motorcycle Complex must contact John Miller on 0418 594 705 before entering the track grounds.
Thank you.
IMPORTANT HOUSEKEEPING REQUIREMENTS:
We have several neighbours adjoining our Newy location - I require all members, participants and visitors to respect all of our neighbours as we would in our residential areas.
Please take heed of all signs as posted around the track grounds.
Yours thankfully
John Miller
2021 Membership forms for both Vintage section and MX are now available for down load.