Finals Info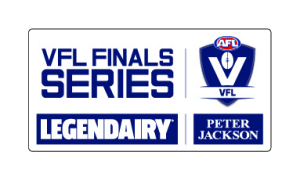 PETER JACKSON VFL LEGENDAIRY FINALS SERIES
The days and times have been release for the Peter Jackson VFL Legendairy Semi Final, Development League Prelim Finals & Swisse VFL Women's Preliminary Final.
North Port Oval will be the venue this weekend for all Peter Jackson VFL and Swisse VFL Women's finals.
It is Semi Final time in the VFL, with Casey Scorpions awaiting the winner of Williamstown and Sandringham, while Footscray or Essendon will face Collingwood in a Preliminary Final.
On Sunday, St Kilda Sharks and Melbourne Uni will play to meet Darebin in the Swisse VFL Women's Grand Final on Sunday September 18 at Priahna Park, Coburg.
Both VFL games will be broadcast on Channel 7, while the VFL Women's clash will be live video streamed on the VFL website.
ENTRY PRICES:
Adults - $15 / Pensioners, Concession - $10 / Kids 12 & under - Free
PETER JACKSON VFL LEGENDAIRY FINALS SERIES
SENIORS
Saturday September 10
SEMI FINAL – North Port Oval
11:40am: Williamstown v Sandringham *
Sunday September 11
SEMI FINAL – North Port Oval
2:40pm: Footscray v Essendon *
*Channel 7
AFL VICTORIA DEVELOPMENT LEAGUE
Saturday September 10
PRELIMINARY FINAL – North Port Oval
2.40pm: Casey Scorpions v Williamstown
SWISSE VFL WOMEN'S
Sunday September 11
PRELIMINARY FINAL - North Port Oval
11.50am: St Kilda v Melbourne Uni
UPCOMING FINALS
PETER JACKSON VFL LEGENDAIRY FINALS SERIES
Seniors
Saturday 17 / Sunday 18 September, North Port Oval: Preliminary Finals, 2:40pm
Collingwood v Footscray or Essendon
Casey Scorpions v Williamstown or Sandringham
Sunday September 25, Etihad Stadium: Grand Final, 3pm
Development League
Saturday September 17, North Port Oval: Grand Final, 11:30am
Box Hill Hawks v Casey Scorpions or Williamstown
YOUNG GUNS GAME: Sunday September 18, North Port Oval
SWISSE VFL WOMEN'S
Sunday September 18, Piranha Park, Coburg
GRAND FINAL: Darebin v St Kilda or Melbourne Uni, 2:30pm
ADMISSION PRICES
Week 1 - 3: Adults - $15 / Pensioners, Concession - $10 / Kids 12 & under - Free
Grand Final: Adults: $20 / Concession/Pensioners: $15 / Children 12 & under: Free
NORTH PORT OVAL DETAILS: