About Us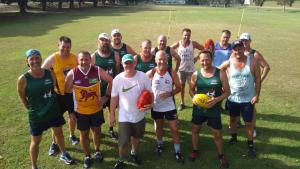 Welcome to AFL Masters Football in the Hunter Valley of NSW.
Our motto is "Footy for Fun!"
At Hunter AFL Masters, you will find a welcoming atmosphere with an emphasis on social interaction, personal fitness, and family involvement.
We welcome players with or without previous AFL experience, and with various level of fitness - we have many players who never played AFL before joining us.
We aim to provide the flexibility and affordability that allows people to play whenever they can. Our games are usually followed by a BBQ where everyone gets together to socailise. We also hold a presentation dinner in October each year.
Aside from games in the Hunter Valley, we regularly play throughout NSW, and we encourage our players to participate in the national carnival each year.
The sport is governed by National Masters Australian Football, and is affiliated with the AFL. Games are played according to a standardised set of modified rules designed to reduce the risk of injury.
AFL Masters football allows players 30 years and over to enjoy the game of Australian Rules Football in a safe, supportive, and enjoyable environment.
If you have any further questions go to our Team App and Facebook pages.