Wheelchair Footy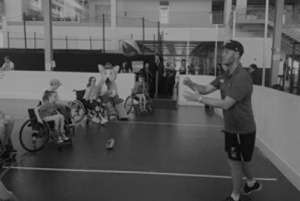 Wheelchair Footy is an adapted version of the great game of Australian Football and provides people with physical disabilities an opportunity to play!
The game is played between two teams of five, plus interchange players. The field is a rectangular court divided into thirds, with goalposts at either end of the field. Players are assigned to the position as either a defender, center or to the forward line with the forwards the only players able to score.
There is no kicking of the ball in Wheelchair Footy. A handball is equivalent to a kick and an underarm throw a handball as per mainstream Australian Rules football. The ball may not be thrown overarm.
For more information on playing Wheelchair Footy or running practice sessions, head to the links below: