Starting Out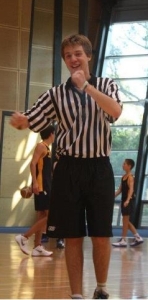 Do you want to earn some pocket money?
Do you want to get fit?
If so, then you should become a basketball referee!
Becoming a referee is a challenging but rewarding career.
The first step to become a referee is to attend an introuctory course which accredits you as an Association Beginner (or Community Referee). The course teaches you the key skills and knowledge in order to be able to referee basketball and be a part of the Perry Lakes Hawks Referee Community!
We typically have a referee intake at the start of our Junior Competition (March) and another at the start of our Term 4 School Competition (October). The dates of these courses vary from year to year depending on school term times. Please contact hawks@hawksbasketball.com.au for more information.
All referee accreditation programs are run by Basketball WA. Registration is via www.basketballwa.asn.au. We will provide a link to the registration page when the courses are scheduled.
So, you've done the course, what next?
The next step for new referees is to get on-court experience. This happens in our Junior Competition and you will typically be put on court with an experienced referee shadowing you. Your partner referee will help you with knowing when to make a call and get you used to the mechanics of refereeing.
Once you are comfortable with being on court we will assign you games without a shadow. Our supervisors will be around to help you.
If you would like more information about becoming a referee, please contact the Perry Lakes Hawks Referee Coordinator at referees@hawksbasketball.com.au or come and see one of the supervisors on a Friday night or Saturday during the competition.