The track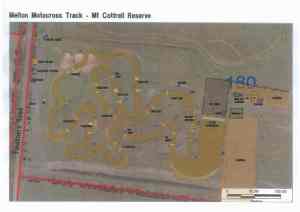 Melton MCC's Home track has been the Mount Cottrell Recreational Reserve Since 1979. The track has hosted state titles as well as its own region titles, events for other clubs, and coaching clinics by well-known pro riders.
The Mount Cottrell Recreational Reserve is located approximately half an hour drive west of Melbourne in the western plains. It is situated within a green wedge, and is home to protected native flora and fauna comprising various native grasses, and creatures such as the striped legless lizard and the golden sun moth. (refer to Environment Protection and Biodiversity Conversation ACT 1999 - attached below). All of these are protected under federal law and as such, carry extensive fines for any perceived destruction of these creatures or their habitat. The Reserve is in the area of Natural Temperate Grasslands of the Victorian Volcanic Plan, which is a highly fragmented, critically endangered ecological community.
Mt Cottrell Recreational Reserve (Mt Cottrell) comprises a Motocross track, a disused enduro track, a dirt track (used by the Melton Motorsports Club), and an airstrip (used by the Melton Model Aircraft Club) which is managed by the Melton Shire.
The facility is the best publicly owned motocross track within a 50km radius of Melbourne CBD
The track comprises a 40-gate concrete starting line, with tabletop and ski jumps of varying sizes, berms and off-cambers in a format that suits all level of riders.
The soil is hard-pack, but constant works have improved the soil conditions significantly.
The facility provides toilets and a kiosk to all visitors.
The track will be open to members only. One-day memberships can be purchase on the day.
Patrons are reminded that machines must meet MA standards as outlined in the MoM's.