Marks/Goals of the Year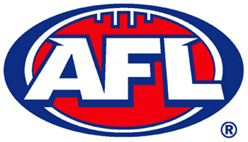 The winners...
Marks of the Year
1990 Michael Mitchell (Richmond)
A juggled mark against his Fitzroy opponent.
1992 Nicky Winmar (St Kilda)
A breathtaking mark at Subiaco Oval.
1998 Winston Abraham (North Melbourne)
An overhead mark over Port's Brendon Lade.
2004 Ashley Sampi (West Coast)
Rose high with a chest mark over Paul Wheatley and Adem Yze, landing cat-like on his feet.
2010 Liam Jurrah (Melbourne)
Huge leap over a contest between Melbourne's Jack Watts and Port Adelaide's Nick Salter.
Goals of the Year
1986 Jim Krakouer (North Melbourne)
Grabbed ball on the boundary line and ran around Frank Dunell before kicking a sensational goal from the boundary with his left foot.
1990 Michael Mitchell (Richmond)
Gathered the ball in his own defensive area and set off on a blistering 70m run through the centre of the Sydney Cricket Ground, escaping a number of would-be tacklers and taking seven bounces before kicking truly from 35m out. Later named Richmond's Goal of the Century.
1992 Darryl White (Brisbane Bears)
Followed up a short kick that didn't travel to the leading forward by kicking a ripper at Carrara from 30m.
1993 Michael Long (Essendon)
Ran and bounced several times for a controversial goal in the 1993 Grand Final. It was apparently touched on the line by Carlton full-back Stephen Silvagni, who to this day claims he touched it before sailing through for a goal.
1996 Winston Abraham (Fremantle)
1998 Jeff Farmer (Melbourne)
Ran the length of the ground, giving off two return handballs, to then receive the ball back, evade multiple opposition players and kick a goal from 45m out on the boundary line.
2004 Daniel Wells (North Melbourne)
Described as "Jackie Chan in mid-air", Wells leapt into the air, grabbed the ball out of the ruck and "scissor-kicked" the ball in one motion in the goalsquare at Subiaco giving North Melbourne a narrow victory over Fremantle.
2006 Eddie Betts (Carlton)
Smothered Tarkyn Lockyer's handball, gathered the ball and, with two opposition player surrounding him, kicked a freakish banana from the boundary and kicked truly.
2008 Leon Davis (Collingwood)
In the final home-and-away Friday night match, Leon Davis tackled Fremantle player Des Headlend in Fremantle's defensive 50, knocked the ball out of the scruffle; as he picked the ball up he broke a tackle and then ran 10 metres before kicking an amazing drop punt from 50m out on the boundary. Commentator Dennis Cometti added the words "of the season" after co-commentator Bruce McAvaney said "goal".
2009 Cyril Rioli (Hawthorn)
In the round 7 match against Essendon, Rioli managaed to evade numerous defenders to weave his way into a position to handball to team-mate Chance Bateman, before receiving the ball back and kicking a goal from 40 metres out.
2010 Lance Franklin (Hawthorn)
Round 13 goal against Essendon at the MCG, where Franklin outsprinted Cale Hooker from the wing to boot truly from around 50m out from near the left boundary line (Franklin is left-footed making angle more acute).
Source: AFL.com.au