Venue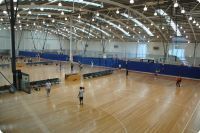 All PPBA games are played at MSAC (Mebourne Sport and Aquatic Centre), so all teams have the luxury of a home game every week on state-of-the-art indoor basketball courts.

MSAC situated next to Albert Park Lake in the beachside suburb of Albert Park.
All players and spectators pay a $1 door charge to enter the MSAC Basketball Stadium when PPBA games are in progress.

MSAC Counrts can be booked for training and private use when they are not being used for competition go to MSAC website for details

Public Tran

sport
MSAC can be accessed by the No 112 tram or the No 96 light Rail.
Car Parking
MSAC has two car parks with a total of 500 spaces for members and patrons' use. Please be aware of Terms and Conditions of parking at MSAC, clearly displayed at all entrances to car parks. Ensure you adhere to the Terms and Conditions or you may be issued with a Payment Notice