WBI Junior Warriors Policies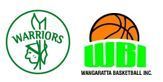 IMPORTANT DOCUMENTS (at the bottom of this page)
Wangaratta Basketball Codes of Conduct (Parents & Spectators, Players, Coaches, Administrators, Officials, and Social Media)

Wangaratta Warriors Representative Coaches Code of Conduct
All enquiries to Wangaratta Warriors Junior Representative Coordinator Tanya Camplin via email: warriors@wbi.org.au
INFORMATION REGARDING SELECTION AND CONSTITUTION OF TEAMS
Our approach A flexible approach to how teams are formulated is necessary in order to cater for a wide range of scenarios that present themselves at try-outs and throughout the season. The coaches and committee will do their utmost to be clear from the earliest stages, but we do require your patience while matters are sorted. The following information is provided to explain the selection processes.

Firstly, it must be acknowledged: 1) Playing representative basketball is a privilege – the team environment and pride in representation are paramount over the individual. 2) Selection into the Warriors program is not guaranteed. 3) Playing representative basketball is a step up from the domestic competition. 4) The selection of teams and players is the responsibility and right of the Head Coach and the Head Coach will be supported in their decisions.

OBJECTIVES
Our selection processes are underpinned by the following:
- That we will endeavor to enable all fully committed and representative-standard players an opportunity to participate in the representative program.
- That all rep players will benefit from their participation in the program.
- Feasibility factors such as the level of commitment required, team entry costs, availability of coaches etc, will be considered in the decision to field more than 1 team.
- Our objective is to continue to attract and retain players in the program.
- That we must field teams that are competitive.
Division 2 Teams and Development Players
The tournaments that we attend accommodate a range of standards within each age-group (Division 1, Division 2, and sometimes Division 3). Teams are entered according to the expected standard of competition. Our aim is for our teams to be competitive, for the benefit of our own players and the opposition.

In the ideal world, we would have enough fully committed players attend try-outs to field 2 teams in each age group. We would like to give all of these players the opportunity to participate and develop as part of the rep program. Unfortunately, when the ideal doesn't present itself (clearly sufficient number of players for 2 teams) then we have to take into consideration a number of factors before determining whether to field a second team
- Whether we can attract additional players to the program
- Can these additional players commit
- Team entry costs (ie same entry cost for 6 players as it is for 10)
- The availability of coaches
- Future selection issues (players on the borderline of Div 1 and Div 2)
- The need to retain players in the program rather than cut
- Providing opportunities for all players - Whether all players will be able to manage the level of competition

The following framework has been developed to clarify the selection processes at the outset of the season.
Selection outcomes from Try-Outs:
DIVISION 1 TEAMS Wangaratta will field a Division 1 team in each age-group. Depending on the standard of the team, our Div 1 team will be entered in Division 1 or 2 of all tournaments and will participate in the age-group country championships.
DIVISION 1 & ESTABLISHED DIVISION 2 TEAMS In the instance of (minimum) 15 committed players at rep standard at try-outs: 2 teams will be fielded that will attend all tournaments. The selection of players per Div 1 and Div 2 team may or may not vary, at the coach's discretion. Remaining players may be invited to continue to train as Junior Development Players*
DEVELOPMENT TEAMS FOR LOCAL TOURNAMENTS If applicable a second or third team may be formed that will attend only the "local tournaments" – Wangaratta, Shepparton, Wodonga and Benalla. All players will continue to train, either with the main squad or separately, or a mixture of both.
DEVELOPMENT PLAYERS Where a player is not ready for rep-level basketball or cannot be accommodated in a team, the coach may invite the player to continue to train with the group as a Development Player. This player will generally not attend any tournaments.

SELECTION
Selection decisions including the number of players selected and which players are placed in Division 1 and Division 2, are the responsibility of the age-group Head Coach, who has the support of WBI and the Warriors committee. A range of factors are considered when making selection decisions, and coaches are in the best position to make these decisions. Parents and players are expected to support these decisions.
Team selections will be placed on the WBI website at a time to be advised. This is in accordance with Basketball Victoria and Basketball Victoria Country procedures. Some coaches may choose to communicate verbally or y mail prior to the website announcement.
FEEDBACK POLICIES
Warriors coaches are committed to providing ongoing feedback and goal-setting to players. Parents or players who wish to receive feedback following the selection process can request it in writing to the WBI Board and it will be arranged on your behalf. The committee and Board of WBI will not intervene in selection issues unless there is a serious breech. Parents are not to approach coaches regarding selection or court-time issues during tournaments or at training. Rather, parents are encouraged to request a suitable meeting time, and where a possible a committee/board member will attend.