Club Uniform & Dress Code Policy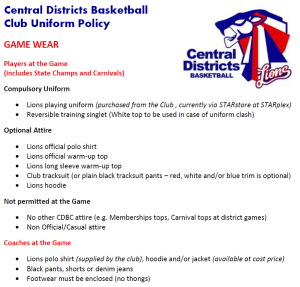 ---
GAME WEAR
Players at the Game
(includes State Champs and Carnivals)
Compulsory Uniform
Lions playing uniform (purchased from the Club , currently via STARstore at STARplex)

Reversible training singlet (White top to be used in case of uniform clash)
Optional Attire
Lions official polo shirt

Lions official warm-up top

Lions long sleeve warm-up top

Club tracksuit (or plain black tracksuit pants – red, white and/or blue trim is optional)

Lions hoodie
Not permitted at the Game
No other CDBC attire (e.g. Memberships tops, Carnival tops at district games)

Non Official/Casual attire
Coaches at the Game
Lions polo shirt (supplied by the club), hoodie and/or jacket (available at cost price)

Black pants, shorts or denim jeans

Footwear must be enclosed (no thongs)
Team Managers at the Game
Lion's polo shirt, hoodie and /or jacket (available at cost price)


TRAINING WEAR
Players at Training
Compulsory
Reversible training top

Lions playing shorts
Optional
Any approved Lion's merchandise
(Carnival warm-up top, Nationals top,
Members top)
Coaches at Training
Club polo shirt

Sports shoes while on court (no thongs)
CARNIVALS
A Carnival top is currently being approved by the committee.
The Carnival top will be able to be customised with team sponsors, players names, carnivals attended. Team designs for the tops must be approved by the Executive Committee.
As per above – Carnival tops may not be worn at normal district games.