Race 8 - Whangamata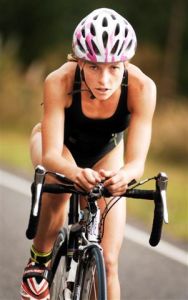 Sheldrake takes out Whangamata National Series Race
Anna Hamilton first home in women's field
Gisborne athlete Stephen Sheldrake has today taken out the eighth Contact Energy New Zealand Cup men's race in the National Triathlon Series at Whangamata, with a final time of 1.55.16.
His fourth win of the series, Sheldrake's victory today puts him just ahead of Auckland's Tristan Calwell on the overall series points table, who finished third in today's race. Both athletes are set to compete in the final race of the series in Wellington on 31 March, which will determine the overall winner of the Contact Energy New Zealand Cup.
In today's race Sheldrake was first out of the water after the 1.5km ocean swim, followed by international Ironman competitor Bryan Rhodes [Taupo]. Sheldrake then pulled away on the 40km cycle, finishing the leg more than two minutes ahead of Rhodes. Calwell was another two minutes behind Rhodes in third position.
Sheldrake maintained his lead on the 10km run, finishing more than two minutes ahead of Rhodes who finished the race in 1.57.38. Calwell chased hard on the run, finishing third in 1.58.02, just over 20 seconds behind Rhodes.
Sheldrake said a win today was important for him ahead of the final race in the series in Wellington.
"It's great to be on top of the points table heading into the final race," Sheldrake said.
"It was a tough race today - but it's nice to race on a challenging course with an ocean swim and a tough hill on the cycle."
In the women's field today, Auckland's Anna Hamilton finished first in 2.14.21, almost three minutes ahead of second place finisher Kelly Bruce [Auckland], who completed the race in 2.17.08. Fellow Aucklander Fleur Bromley finished third in 2.18.42.
Her second win of the series, Hamilton's victory today cements her second place position on the series points table, behind series leader Gina Ferguson [Christchurch].
Today's event also featured the shorter distance Tri My Sport race, comprising a 500m swim, 16km cycle and a five kilometre run. The men's field was taken out by William Curtayne [Auckland] in 47.07, followed by Ben Logan [Auckland] in second in 47.29, and Andrew Curtayne [Auckland] in 47.58. In the women's field, Rebecca Kingsford [Tirau] finished first in 55.30, followed by Tracy Steens [Tauranga] in 56.41, and Taryn Richards [Thames] in 58.14.
The final race in the Contact Energy National Series will take place in Wellington on 31 March 2007, which is also the New Zealand Standard Distance Championships.