Race 3 - Nelson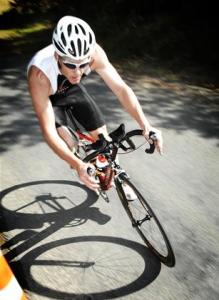 Impressive Performances at Nelson National Series Race

Calwell top of points table; second win for
Ferguson
In brilliant conditions, Auckland athlete
Tristan Calwell has today taken out the third Contact Energy New Zealand Cup
men's race in the National Triathlon Series, at Rabbit Island, Nelson.

His third race in the series, Calwell's win puts him at the top of the series
points table, after completing the 1.5km swim, 40km bike and 10km run with a
time of 1.58.13.
Tony Dodds of Wanaka finished second in 1.59.19, and Blair Jordan of Tauranga
finished third in 1.59.29.
In the women's race, Christchurch woman Gina Ferguson finished first with a
time of 2.12.42, her second win of the series after taking out the first race in
New Plymouth on 11 November.
Kelly Bruce of the North Harbour Triathlon Club, which was strongly
represented at today's race, finished second in 2.15.42, and Sarah Bryant of
Dunedin finished third in 2.17.39.
The next race in the Contact Energy National Series will take place in
Christchurch on 13 January 2007.
Results for Race 3 of the Contact Energy National Series, Nelson 16th December 2006.