Why Become an official?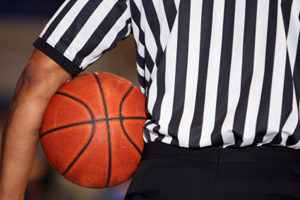 Why become a referee?
1. Sport needs you
The Rules of the Game insist on there being a referee present. Referees are vital to the current and future health of the game.

2. Fitness
A successful referee does need to be fit and can lead you to a healthier way of life.

3. Personal Development
This hobby helps to develop personal skills that are of value in all walks of life.

4. Social Aspects
Referees meet regularly and this offers the opportunity to socialise with colleagues, discuss 'the game' and take part in additional training. Become part of the team that helps the game of basketball to develop in New Zealand.

5. Give Something Back
Refereeing offers players, at the end of their playing days, the opportunity to continue in the sport.

6. Ambition
There are many local and national competitions / leagues / tournaments to which referees can aspire. FIFA accepts officials until the age of 45.

7. Interesting Hobby
Each game is a constantly changing challenge of your abilities and offers you a high level of personal satisfaction.

8. Travel Opportunities
Initially a referee will hone their skills within competitions ran by the local Association. Further success could mean travel throughout the area, region and for a number, international travel to Australia or further afield! Ken Coulson from Harbour Basketball refereed at the Olympic Games!

9. Life long Interest
Refereeing can offer a longer career than playing. After refereeing there are opportunities as Assessors and Educators.
10. Money
Local referees are usually reimbursed actual and reasonable expenses whilst more senior referees are awarded in most cases a game fee.