Jump into Umpiring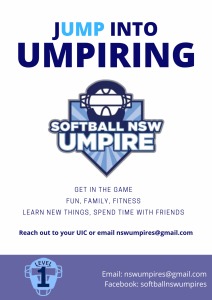 BECOMING AN UMPIRE
Congratulations, by reading this page you are taking the first important step to become a softball umpire! There are many reasons to start umpiring, it might be to help your club, spend time with your friends or family, aim to extend your playing career or you just love softball and want to get more involved. Whatever your reason, welcome to the Blue Crew, we are glad you're here!
Before you get started to become an official umpire of softball, here is some information that might help you understand the role of an umpire and what you need to know:
SUPPORT PEOPLE
Each Association in NSW has a committee member responsible for umpiring. Reach out to your local association to find out who is the Association Umpire In Chief (UIC) / Umpires Coordinator
The Softball NSW Umpires Association is also available to help.
Contact: Vicki Lansley (Association Secretary) nswumpires@gmail.com

JOIN THE SNSW UMPIRES ASSOCIATION
Joining the Softball NSW Umpires Association means you will be joining our umpiring family and becoming part of a culture that is passionate about achieving success on and off the diamond.
Membership is available to accredited umpires, unaccredited umpires who umpire regularly at your association and umpire supporters.
SOFTBALL RULES

UNIFORM AND EQUIPMENT
Click here for the umpire uniform and equipment

LEVEL 1 REQUIREMENTS
To achieve Level 1, here are the things you need to do:
Read Full Level 1 Requirements here

LEVEL 1 UMPIRE MANUAL
The Level 1 manual offers important information including:
Become an umpire

Accreditation Tasks

Rules Knowledge

On Diamond Mechanics

Signals

Two Umpire Rotation System
Download the Full Level 1 Manual here