Level 3/4 Clinic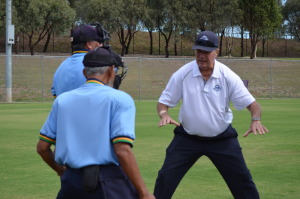 PURPOSE
The SNSWUA Level 3/4 Umpire Clinic aims to provide a structured umpire development program, specifically focusing on preparing umpires for practical examinations as well as expanding and building on their knowledge to help in preparations for their Level 3/4 Examination.
TARGETED UMPIRES
The SNSWUA Level 3/4 Umpire Clinic is targeted at current Level 2 and 3 umpires who have a strong interest in becoming a Level 3 or 4 candidate in the near future. By joining the SNSWUA Level 3/4 Umpire Clinic, aspiring Level Two and Three candidates will have the opportunity to hone their skills in the lead-up to the practical examination. Practical in nature, the clinic will be tailored to the needs of the participants and also include important theoretical components.
DATES and TIME
Saturday 17 April and Sunday 18 April 2021. For both days the clinic will start at 8:30am and conclude at 5:00pm.
REGISTER
To register for the clinic click here.
GENERAL CLINIC INFORMATION

CLINIC COST
SNSWUA Members - $100 per person
Non-members - $130 per person; $110 per person (Junior/school age)
VENUE - Blacktown International Sports Park

UNIFORM - All umpires are required to wear full umpire uniform for all sessions.
UMPIRE REQUIREMENTS - In order to successfully complete the SNSWUA Clinic, umpires will be required to fulfil the following commitments:
ATTIRE - Full Uniform (Base Uniform) is to be worn all day both days during Theory and Practical sessions. Please wear your uniform to the venue and bring a pair of casual shoes for attending sessions in indoor facilities.
EQUIPMENT - Please bring all umpiring gear including protective Plate Umpire gear; i.e., all the gear you take to the park to umpire each game. Gloves, bats and balls will also come in handy.
PHYSICAL ABILITY - Participants must have the physical ability to participate in a training program that requires frequent voice projection, stretching, bending, squatting, jogging, sprinting, and standing for periods of two hours or more and participate in a daily conditioning program of organised medium-impact aerobics designed to exercise and strengthen muscle groups most utilised by umpires.