Overview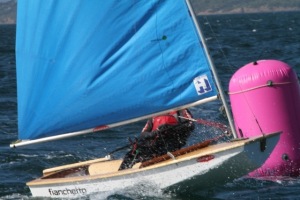 The minnow is a single handed training dingy for kids from about 8 years old till they grow too big (about 55kg is the maximum bodyweight).
It was designed by Rex Fettell in 1974 as an easliy-built plywood dingy. While there are still competive ply boats being built, fiberglass foam-sandwich construction is more commonplace. The Victorian association has a set of moulds in use but can also supply plans for a home-built boat.
The class is strictly one-design with the rules aimed at making the boats evenly matched for speed, strong and cheap to make.
Sailing a minnow is easy for novices to sail and has very little water in it after a capsize. A self bailer in the floor means the sailor very rarely has to do any manual bailing at all so they can get on with having fun sailing.
The boat is a recognised youth development class by Yachting Victoria and is welcomed at all YV training events as well as the ISAF Sail Melbourne regatta held at Sandringham Yacht Club each year. There are many champion and olympic sailors who started out in the mighty minnnow!