The Great Teams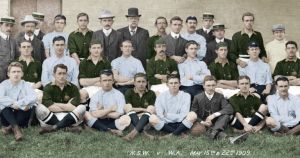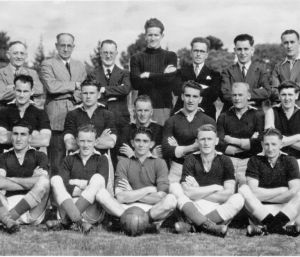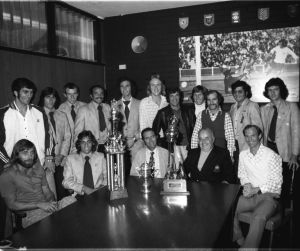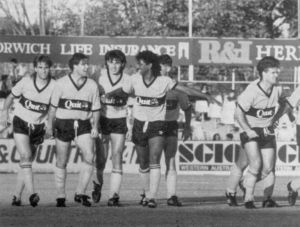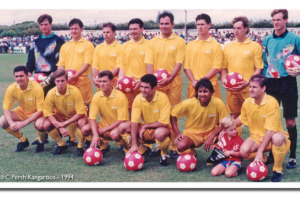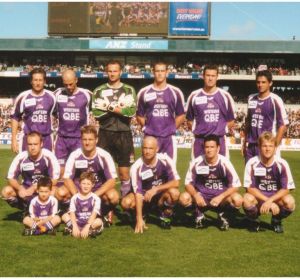 SETTING SAIL WITH THE PIONEERS...
WESTERN Australia has produced some extraordinary teams over the last century or so, both at State representative level - including pace-setting adventures into Asia - and at club level in the State league.
The first of great significance was the 1909 pioneering group of 15 State players who, after a 10-day sea voyage - ending up at Sydney's Circular Quay - went on to tour NSW, Victoria and South Australia, playing 10 games over 49 days and only losing twice.
That opened up new horizons for the men from the west, but it was the 1948 State team that made the big breakthrough by winning the three-state Southern States Carnival at Norwood Oval in Adelaide.
They beat the hosts South Australia 4-2 first-up, with Alan Beale and Bert Robertson each scoring twice. Then came a 4-3 victory over Tasmania, with a hat-trick from Beale and Jack Smethurst getting the other goal.
In the final, WA easily over-ran Tasmania, winning 6-2. Smethhurst scored twice, while the other goals came from Beale, Robertson, Bill Brackenridge and Don Turner.
Beale, who was on the original Hall of Fame committee set up in 1996, was inducted into the Hall of Champions. Others from that 1948 team who are Hall of Fame inductees include Smethurst, Bob Cherry, Alex Mansfield, Stewart Johnson and Frank McShane.
A YEAR TO REMEMBER - MAKING HISTORY IN ASIA AND BEATING RANGERS
IT WAS 1975 that was probably the watershed year for the State team. It was one of the busiest 12 months for representative duty - and the most productive.
It started with a February date with crack Polish side Legia Warsaw, who beat WA 4-2 in a thriller at Perry Lakes Stadium.
In April the State side took off for Medan in the North Sumatra province of Indonesia to compete in the Marah Halim Cup. They played eight games, which culminated in them becoming the first Australian team to win an Asian tournament when they beat South Korea 2-0 in front of 40,000 in the final.
They had started the prestigious tournament by beating Surabaya 4-1, followed by a 2-1 victory over Thailand and then a 2-1 loss to East Java. They got back on track with a 4-2 win over Japan, a 2-1 victory over Persija Jakarta, a 2-0 success over PSMS Medan and a 3-1 triumph when they tackled Thailand again in the semi-finals. Then Ernie Hannigan and Nick McCallum got the goals in the final win over the Koreans.
The WA squad was: Tony Witschge, Sauro Iozzelli, Denis Barstow, David Jones, Steve Stacey (captain), Bob Taylor, Gary Marocchi, Aldo Trinca, Stephen Sceats, Ernie Hannigan, Dave Brooks, Nick McCallum, Ken Morton, David O'Callaghan, Bert Kirkpatrick and Steve Pateman.
Less than two weeks later, the heroes of Medan were in action again - this time at Perry Lakes in an international challenge against English side Middlesbrough. It ended in a 1-1 draw, but WA were unlucky not to win after having a goal disallowed.
Manchester United were the Perry Lakes Stadium visitors in mid-June when 14,000 saw WA miss a penalty in the 2-1 loss to the Red Devils.
But a week later came one of the State side's most famous victories - a 2-1 triumph over Glasgow giants Rangers with goals from Ray Ilott and George McMillan. It was a useful Gers side with the likes of John Greig, Colin Jackson, Tommy McLean, Derek Parlane and Derek Johnstone in the starting line-up.
WA's starting eleven was: Tony Witschge, Stephen Sceats, Bob Taylor, Denis Barstow, Steve Stacey (capt), Dave Brooks, Ray Ilott, George McMillan, Dave O'Callaghan, Gary Marocchi, Frank Bibby. The subs were: Sauro Iozzelli, John O'Connell, Ken Morton, David Jones, Bert Kirkpatrick, Aldo Trinca, Saverio Madaschi.
Two more games followed in 1975 - a 17-0 win over an Albany X1 in Albany and a 1-0 victory over Australia B at Perry Lakes.
WA retained the Marah Halim Cup in 1976, again beating South Korea 2-0 in the grand final, this time in front of a crowd of 50,000. The goals came from George McMillan and Nick McCallum.
The squad was: Tony Witschge, Saverio Madaschi, Sauro Iozzelli, Denis Barstow (capt), David Jones, Peter Johnstone, Hugh Miller, Ray Ilott, Gary Marocchi, Stephen Sceats, Gordon McCulloch, John O'Connell, Tony Trinca, George McMillan, Nick McCallum, John Davies, David O'Callaghan.
DOWNING THE SOCCEROOS - AND HAILING THE KANGAROOS
OVER the next few years, useful efforts were achieved against the likes of AC Milan (losing a thriller 3-2) and Sunderland (just edged out 2-1) - but the most significant achievement was beating the Socceroos 2-1 at Inglewood Reserve with goals from Steve McCaffrey and Ronnie Campbell in 1983.
The WA squad was: Glenn Giudici, Dave Roxby, Matt Pearson, Reg Davies, Frank Faraone, Steve Green, Steve Tombides, Paul Tombides, Jeff Lewis, Frank Clark, Eric Williams, Ronnie Campbell, Rene de Koning, Frank McKay, Dave Kamasz, Norrie Sutton, Steve McCaffrey.
In 1992 there was a famous victory over German side Werder Bremen, who had won the European Cup Winners Cup a few weeks before. WA got up 3-2 at the WACA Ground with goals from Stan Lazaridis, Tony Carbone and Carl McDarby.
The squad was: Willie McNally (capt), Brian Sweeney, Shaun Murphy, Marc Wingell, Gareth Naven, Craig Naven, Tony Carbone, Brian Roberts, Trim Morgan, Stan Lazaridis, Carl McDarby, Frank Bate, Brian McLatchie, Scott Miller, Lou Collova, Taki Nicolaides, Jeff Faulkner, Tommy Maras. The coach was Gary Marocchi.
Marocchi was at the helm when the Perth Kangaroos, which comprised top players from the WA State League, were unbeaten in romping to the Singapore League crown in 1994.
Many players were used over the 18 games, and these included: Vince Matassa, Michael Petkovic, Vladimir Beretovac, Steve Bourne, Alex Cummings, Paul Dimmock, Peter Schoolkate, Gary Lees, Sean Lynch, Ray Marinovic, Joe Marrapodi, Brendon McIntyre, Paul McVittie, Tasso Notaris, Scott Miller, Craig Naven, Gareth Naven, Taki Nicolaidis, Paul Strudwick, Vince Tana, Stephen Willey, Dave Wingell, Jason Van Rooy and player-coaches Gary Marocchi and Micky Brennan.
In 1995, the State team claimed a couple of notable scalps when they beat West Ham United 5-3 on penalties after the game had been deadlocked at 2-2 and then overcame Nottingham Forest 2-1.
The squad for those games was: Robbie Zabica, Gareth Naven, Alex Cummings, Shaun Murphy, Gavin Tait, Scott Miller, Paul McVittie, Jason Ainsley, Bobby Despotovski, Michael Roki, Stan Lazaridis, Rene de Koning, Paul Donnelly, Craig Deans, Norrie Sutton, Alan McTurk, Terry Worsfold, Michael Petkovic.
A TIME FOR DOUBLE GLORY
MOVING into the 21st Century, it has been Perth Glory who have flown the flag for WA with back-to-back triumphs in the National Soccer League - a 2-0 grand final win over Olympic Sharks in 2002-03, and a 1-0 success over Parramatta Power the following season.
For the breakthrough NSL crown in 2002-03, the Glory squad was: Jason Petkovic, Matt Horsley, Jamie Harnwell, Brad Hassell, Craig Deans, Andre Gumprecht, Scott Miller, Anthony Danze, Nik Mrdja, Bobby Despotovski, Michael Garcia, Mark Byrnes, Mohd Mouhouti, Edgar Junior, Damian Mori, Gary Faria, Shane Pryce, Vince Matassa, Adrian Caceres, Simon Colosimo, David Tarka, Jamie Coyne. The coach was Mich d'Avray.
At State League level, there have been many outstanding achievements, including Fremantle Caledonians winning the Triple Crown of the league title, challenge cup and charity cup in 1927. They won all 14 league games. Their goalkeeper was Alex Marr, who was inducted into the Hall of Fame in 1996.
Victoria Park were unbeaten in 14 games to win the league title in 1928, scoring a phenomental 115 goals. Jack Conduit, another Hall of Famer, bagged 10 in a 17-1 win over Perth City.
Perth Azzurri took out the Triple Crown of league, challenge cup and charity cup in 1953. They were unbeaten in 18 league games.
Azzurri were unbeaten again in winning the league title in 1967 - a feat they achieved again in 1981 when they picked up a cheque for $10,000 from Red Rooster for their unbeaten romp. They also won the Night Series and D'Orsogna Cup that year with an impressive squad that included Saverio Madaschi, Willie McNally, Sauro Iozzelli, Aldo Trinca, Steve Tombides, Paul Tombides and Ronnie Campbell, who have all been inducted into the Hall of Fame.
East Fremantle Tricolore have had much to celebrate over the years, including romping to the league crown in 1964, winning by 10 points and staying unbeaten in 18 games. In that year John McInroy, now in the
Hall of Legends, scored 41 goals.
Spearwood Dalmatinac, now Cockburn City, were unbeaten in 22 games in winning the premier league title in 1982, while Floreat Athena went through the season without a loss when taking the league crown in 1990.
PIC ONE: The 1909 WA team pose with the NSW squad. PIC TWO: WA's 1948 team. PIC THREE: WA's 1975 Marah Halim winning team. PIC FOUR: WA celebrate after beating Werder Bremen in 1992. PIC FIVE: The 1994 Perth Kangaroos side. PIC SIX: Perth Glory's 2002-03 NSL winning line-up.