The Early Years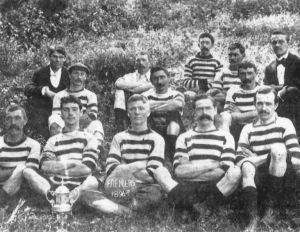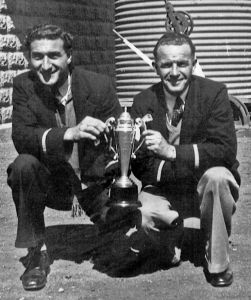 A potted history of the major happenings in the game in WA from the official beginning in 1896 to the end of the 1960s.
1896 - Organised football set up in WA with the staging of a match at Hyde Park, Perth, between the Civil Service and Perth clubs, the game described as being under the British Association rules. In his book A Soccer Century, Richard Kreider said that a bundle of clothes were probably thrown down to mark the goals. Perth won 2-0, with both goals coming from 16-year-old Reg Burt, a member of the influential Burt family and an ancestor of the present-day Football Hall of Fame Patron Julian Burt. The West Australian newspaper labelled the game as the socker code of football.
1896 - Fremantle Wanderers won the first league championship and went on to add three more titles in the next five years. In those days, Freo played at a ground called the Halfway House in Cottesloe, but had to move when the adjoining Albion Hotel on Stirling Highway took over the entire site.
1900 - The first Goldfields league is formed with four teams: Boulder City, Boulder Mines, Coolgardie Pioneers and Kalgoorlie.
Top Picture: Fremantle Wanderers proudly pose with WA's first league trophy in 1896.
Bottom Picture: WA State team stars Bob Cherry (left) and George Allison show off the 1948 Inter-State trophy which the West Australian side won in Adelaide.

1902 - WA has its first taste of 'international' football when the State team takes on the visiting English Ashes cricketers in a match at Fremantle Oval, the visitors winning 4-0. Entrance cost 6d, with children half-price and a crowd of nearly 5,000 turned up. It was to be the first of many such challenges each time the England cricketers visited WA.
1903 - Perth's first recorded floodlit games took place at the WACA Ground. A notice in The West Australian proclaimed: Football by electric light.
1909 - First senior Inter-State tour. The WA representative team visits NSW, Victoria and South Australia, playing 10 games, winning three and drawing five.
1919 - The amazing Jack Conduit begins his career as a junior with Perth. He goes on to score 421 goals in 262 games with Vic Park.
1924 - Jimmy Gordon gets 48 goals for Northern Casuals during the season.
1926 - Tom Moss scores nine in North Cottesloe's 12-0 win over Rangers.
1927 - A Czechoslovakia-Bohemia squad is the first European team to officially visit Australia. Stopping off first in WA, they whipped the State team 11-3 at Perth Oval, but the locals were more competitive in the second game a few days later, losing 4-6 in front of 5,000 at Cottesloe Oval.
1928 - Jack Conduit scores 10 in Victoria Park's 17-1 win over Perth City, and gets seven in the next game, a 15-2 victory over Armadale.
1938 - WA beats India 5-1 at the WACA Ground. Bill Waddell gets four of the goals, and Jack Conduit scores the other. Most of the Indian players perform without boots, preferring to wear simple strappings.
1946 - Women's football takes its first tentative step with an exhibition game between two country ladies sides at a carnival in Margaret River.
1948 - WA wins the first Inter-State carnival in Adelaide, beating Tasmania 6-2 in the grand final. Alan Beale, later to become a founding member of the Hall of Fame Committee, is WA's top scorer in the tournament with six goals.
1952 - Perth Azzurri's Edmundo Faletti is the league's top scorer with 25 goals. He got six in the 9-0 win over Spearwood.
1955 - Ron Adair, later to become a Legend of the Hall of Fame, is the first West Australian to captain Australia in the challenge game against Austrian side Rapid Vienna in Adelaide. The visitors win 8-2.
1959 - East Fremantle Tricolore's prolific forrward John McInroy, also destined to be a Hall of Fame Legend, scores nine in the 12-2 win over Perth City.
1960 - The first local match to be televised live took place on April 23 between Swan Valley and Windmills at Bayswater Oval. The ABC showed just part of the game, but on June 6 they televised live the whole Ascot Cup tie between North Perth-Osborne and Olympic, also held at Bayswater Oval.
1963 - John McInroy scores 48 goals in the season. He gets 41 the following year and 35 in 1965. Over eight seasons he scores 240 league goals.
1964 - Dutch-born Theo Paap wins the first of a record four Gold Medals as WA's Fairest and Best player. The classy defender captains Morley Windmills for 10 years.
1966 - Cracovia make history in winning the First Division crown, becoming the first team to do so after gaining promotion. Former Polish international Paul Sobek gets the title-clinching goal in a final fixture win over Azzurri.
1966 - First penalty shoot-out in WA in the quarter-finals of the Australia Cup when Azzurri beat Slavia Port Melbourne 4-3 on penalties after a 1-1 deadlock. Rod Reid, Neil Morson, Nino Segon and Gil Nobbs all score consecutive penalties.
1966 - Amateur teams get proper recognition with the establishment of the Westralian Amateur Soccer League.
1967 - WA's State team makes its first overseas venture to play in the Merdeka Cup tournament in Malaysia. They are the first Australian representative side to take part in an Asian event. The WA players win two of six games to finish ninth. WA finishes third the following season out of 12 teams.
1967 - Manchester United, boasting Bobby Charlton, Denis Law and George Best in their line-up, beat WA 7-0 in front of a record 21,000 crowd at the WACA Ground. The goals are scored by Best (3), Brian Kidd (2), Charlton (1) and Law (1).
1968 - John Van Oosten scores seven in Azzurri's 8-1 win over Swan Athletic.