The Superstars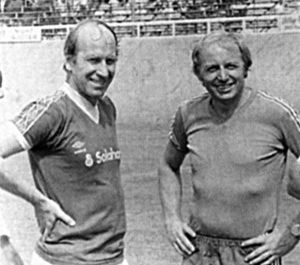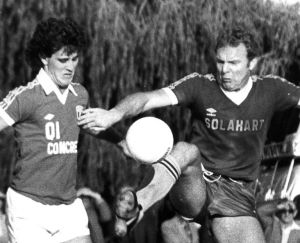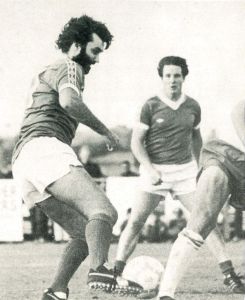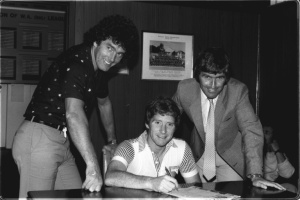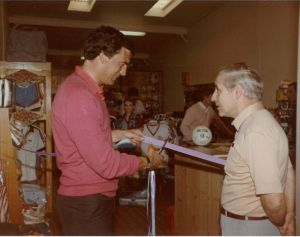 WHEN THE BIG NAMES CAME TO TOWN
WESTERN Australia was a magnet for some of the biggest names in world football during the 1980s - including Bobby Charlton, Bobby Moore, George Best, Alan Ball, Trevor Brooking and Mick Channon.
These days, Charlton is Sir Bobby and Brooking is Sir Trevor.
It was Bobby Charlton who started the trend of the "Superstars Down Under" when he arrived in Perth in 1980 to play a series of games as a celebrity guest of Perth Azzurri.
The former England World Cup winner and Manchester United great, then 41 years of age, played three games in the night series - and demonstrated he had lost none of his flair, or hunger, by scoring twice.
Off the field, Charlton worked tirelessly to promote the game.
He spoke at seminars, attended social gatherings, visited schools and hospitals and even shared the Perth Concert Hall stage with Max Bygraves and Danny La Rue in order to spread the football gospel.
Charlton, who was knighted in 1994, was an inaugural inductee into the English Football Hall of Fame in 2002. Interestingly, this was set up six years after WA's trail-blazing Hall of Fame had been established.
England's World Cup-winning captain Bobby Moore - then aged 38 - travelled to WA in 1981 to turn out in two games for Inglewood Kiev, and then switched to Rockingham United for a one-off appearance.
He also linked up with Cracovia in 1982 to play two games for them in a short tour of Malaysia.
Moore died of cancer at the age of 51 in 1993. England manager Alf Ramsey said of him: "My captain, my leader, my right-hand man. He was the spirit and the heartbeat of the team. A cool, calculating footballer I could trust with my life. He was the supreme professional, the best I ever worked with. Without him England would never have won the World Cup."
The same year as Moore graced WA, another England star, Mick Channon, capped off a tour of Australia - he had played four times for Newcastle KB over east - to feature in one game for Gosnells City against Kingsway Olympic, satisfying fans by scoring one goal and celebrating with his famous "windmill" action.
When he retired from football, Channon - who had always been a horse racing fanatic - turned his hand to training horses as a profession. He has been very successful and has looked after the horses of many famous owners, including football acquaintances Kevin Keegan, Alan Ball, Chris Cattlin and Sir Alex Ferguson.
Alan Ball, another member of the England team that won the World Cup in 1966, made three stand-out appearances, scoring twice, for Floreat Athena in 1982.
Then aged 37, he showed he had lost none of the tigerish enthusiasm he displayed for England in the World Cup by driving Athena from midfield. David Andrews, who was the football writer for The West Australian at the time, later said that Ball was the most impressive guest player to have graced WA football.
Striker Ted MacDougall, the Scottish international who played for the likes of Manchester United, West Ham, Southampton and Bournemouth in a colourful career, played for Athena at the same time as Ball.
Top Pic: Bobby Charlton poses with Perth Azzurri coach John Birighitti.
Second Pic: Playing for Inglewood, Bobby Moore (right) is challenged by Perth Azzurri's Paul Tombides.
Third Pic: George Best in action for Galeb with team-mate John Coyne looking on.
Fourth Pic: Alan Ball (centre) signs on for Floreat Athena, watched by Ted MacDougall (left) and coach John Sydenham.
Fifth Pic: Trevor Brooking opens the new Sports Forum store in Perth as owner Bob Brown looks on.

Ball died of a heart attack in 2007 aged 61. MacDougall was reserve team coach at Portsmouth when Ball was manager in the late 1990s. He later moved to the United States, where he became youth director of coaching with the Atlanta Silverbacks.
George Best, arguably the biggest name to tread a football pitch in WA, made a fleeting visit in 1983.
The Manchester United wizard had played four games for Brisbane Lions and stopped off in Perth on his back to the UK and turned out as a guest for Osborne Park Galeb. Although in the twilight of his career at the age of 37, he still showed some magical touches and scored one goal.
Best, who suffered from alcoholism and had a liver transplant in 2002, died in 2005 aged 59.
There is a statue of Best, Charlton and Denis Law - who played in WA when Manchester United toured in 1967 - outside Old Trafford. It commemorates the "United Trinity."
The United team of 1967 was star-studded, to say the least. The starting line-up was: Alex Stepney, Shay Brennan, Tony Dunne, David Sadler, Bill Foulkes, Nobby Stiles, George Best, Denis Law, Bobby Charlton, Brian Kidd, John Aston. Reserves: Jimmy Rimmer, Jimmy Ryan, Noel Cantwell.
Nearly 21,000 turned out at the WACA Ground to watch the Red Devils blitz WA 7-0. They did most of the damage with 10 men after Law was sent off by local ref Roy Stedman after 33 minutes for swearing at the official. Law managed a goal before he saw red. United's other goals came from Best (3), Kidd (2) and Charlton (1). A few months later, what was basically the same United team went on to beat Benfica 4-1 in the final of the European Cup.
Former West Ham and England midfielder Trevor Brooking, then 38, stayed longer than most when he joined Kelmscott in 1985, turning out in six games and helping to coach the club's juniors.
The likeable Brooking helped to promote the game whenever he could, posing for pics, signing autographs and opening football shops. He became Sir Trevor in 2004 and has since been involved in administration with the English FA as Director of Football Development.
In the following decade, fewer international stars showed off their footballing talents in WA, although England World Cup hero Geoff Hurst and Northern Ireland's Norman Whiteside did some coaching here.
Former Wales international and Tottenham defender Paul Price came to WA in 1990 and played several games for Bayswater. He returned in 2005 as a coach, initially taking the reins with Western Knights and later Sorrento.
In 1993, former Liverpool great Jimmy Case was still effective at age 39 when he played four times for Wanneroo British, while Scotland international Ted McMinn played half a season with ECU Joondalup in 1996.
Other big names who came to Perth, but stayed on long-term to play or coach, include:
Francis Burns (ex-Manchester United and Scotland), Colin Irwin (ex-Liverpool), Mick Lyons (ex-Everton), Ron Tindall (ex-Chelsea), John Sydenham (ex-Southampton and England), Reg Davies (ex-Newcastle Utd and Wales), Mickey Brennan (ex-Manchester City), Steve Neville (ex-Southampton), Trevor Morgan (ex-Bournemouth), Ernie Hannigan (ex-Coventry), Tom Kilkelly (ex-Leicester City), Noel Larkin (ex-Athlone Town and Ireland), John Coyne (ex-Tranmere and New York Cosmos), Steve Stacey (ex-Bristol City), Paul Sobek (ex-Polish international), Graham Normanton (ex-Hartlepool)