The 1960's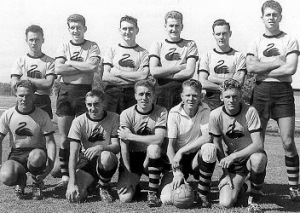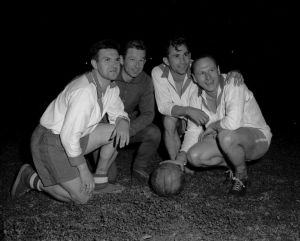 Alfred Debono
Maltese born Alf Debono emigrated to Perth in 1964 and signed up with Azzurri's juniors. He displayed a precocious talent in his midfield position early in his career. Such was his early impact that he gained selection in the WA side against New Zealand in 1967 on his 16th birthday, and celebrated the occasion by scoring in a 5-2 loss. He went on to make thirteen appearances for the State, probably less than his talent demanded, in his twenty-year playing career. FIFA's roving coach of the day, Dettmar Cramer, spent some months in Australia providing technical assistance to the States and on seeing the talents of Debono remarked that he was the best young player he had seen in Australia. At club level his skill and poise, combined with his positional sense, were outstanding, and Azzurri, Cracovia, Bayswater, Windmills, Tricolore and Athena all benefited from his presence. Three First Division championships came his way, as did five Night Series, two D'Orsogna Cups and one Top Four Cup victories.
Pic One: Tthe first senior State team to represent the WA Soccer Federation (before it changed its name to the Soccer Federation of WA) in the 1960s: Rear: Segon, McArdle, Atkinson (capt), Van Merwyk, Meyer, Koelen. Front: Bryson, McInroy, Nobbs, Verharen, Oughton.
Pic Two: The great Poles who played for Cracovia (from left) Paul Sobek, Wally Musial, Henry Lukoszek, Ziggie Pieda.
Eric Edmonds
Eric Edmunds, born in Subiaco in 1947, was an outstandiang junior and made his senior debut with the powerful East Fremantle Tricolore side of the 1960's when he was only 15. A full-back with a calm approach to the game and an insatiable appetite for hard work, he soon made his spot in the Tricolore side permanent and enjoyed the fruits of the club domination in 1960's through the early part of the 1970's. He has six First Division championship medals to his credit - including the triple success of 1963, 1964 and 1965 - five D'Orsogna Cups, two Night Series and two Top Four Cup medals. It was a natural progression to the State side, where he made twenty-four appearances and was involved in some of the memorable international matches of the era. He made his State debut in the 0-5 loss to Moscow Dynamo in 1970 and was there in the return match a year later when WA drew 3-3 in what still ranks as one of the best games played in Perth. He was selected in a number of junior sides and in an eastern state carnival was picked in an all Australian youth eleven.
Peter Holt
Born in Lancashire (England) in 1943, Peter Holt came to Perth in 1967 and joined Azzurri where he'd spend eleven seasons playing on the right wing. Many contend he is the best player ever to have pulled on a State jersey, an opinion supported by his selection for the State side on forty-one occasions, a record he shares with three other players. He was selected for the Australian side for their 1970 World Cup campaign but was told he had to move to Sydney or miss out - he didn't make the move and missed out. A highlight was being selected as State captain in the 1-1 draw with Manchester City in 1970. Holt has been influential in teams that have won six First Division championships, three Top Four Cups, four D'Orsogna Cups, and five Night Series titles.
Mike Ireson
Mike Ireson emigrated to Perth from his native Bournemouth (England) in 1961 and joined the legendary North Perth club in 1962 as a midfield-striker. His First Division career spanned fourteen seasons with North Perth, Kiev, Olympic and Tricolore before moving back to Olympic as captain-coach. He played twenty times for WA and was State captain on twelve occasions, including the 1968 trip to the Malaysian Merdeka tournament. He twice won the coveted 'Fairest and Best' player award, in 1966 and 1967, and on several other occasions finished in the top five for the State's most prestigious award. He participated in one First Division championship, two D'Orsogna Cups and three Top Four Cups.
Dick Jones
Born in Winslow, Cheshire, Dick Jones came to Perth in 1967 with a big reputation having played for then English First Division side Huddersfield Town. His initial stay was brief but on his return to England by boat met his future wife Heather, a Perth girl, who persuaded him to return to Australia the same year. Dick joined Azzurri for two years and proved one of the toughest defenders in the competition. His major advantage was speed off the mark with an exceptional ability to organise and marshall players round him. His presence on the field did much to guide Azzurri to successive First Division championships (1967 and 1968), a Top Four Cup (1967) and a Night Series victory (1968). Jones moved over to Windmills in 1969 as player-coach. In his short playing career Jones was selected on five occasions for the State and coached the team to a 1-1 draw with FC Zurich in 1970.
Richard Kuzimski
Born in Germany of Polish parents, Richard Kuzimski emigrated to WA as a child and so can be called a product of the local system. A solid defender - quicker off the mark than his image suggested - he went on to play for his adopted State on twenty-six occasions over a three-year period. His maturity into the Cracovia senior side coincided with the arrival in Perth of four Polish internationals of exceptional ability, and they helped to mould the young Kuzimski into a valuable member of the powerful side that emerged for a few short years. He was part of the 1966 First Division championship side, appeared in four D'Orsogna Cup finals in succession (1965 to 1968), winning the Cup in 1967, and then adding the 1967 Night Series to his achievements. In his State career he played against some of the best overseas teams to come to Perth, such as Inter Bratislava, Moscow Dynamo, Australia, FC Zurich and twice appeared in the Merdeka tournament in Malaysia. He was a member of the 1968 State squad what was pipped by Malaysia for a place in the final when the hosts beat WA 4-3 in a semi-final that is still regarded as one of the best matches of that tournament.
Henryk 'Henry' Lukoszek
Born in Poland, Henryk Lukoszek came to WA with an international pedigree and was one of the most exciting players to have pulled on his playing boots in this state, if not the country. He joined Cracovia with three other Polish stars in 1965 from his Arkonia SzCzecin and set about changing the culture of the game in WA. A left sided striker, Lukoszek had blistering pace, a ferocious shot and a strong hint of devil-may-care attitude that added to his magnetism. He may have played only four years before returning to Poland, but in that time he helped Cracovia to a Second Division title (1965) and a First Division championship (1966). There is also Night Series and D'Orosgna Cup victories to his credit in 1967, and he won the leading goalscoring award with 25 goals from 18 games in 1966. He played played thirteen matches for WA, scoring three goals which included WA's memorable 2-4 loss to the Italian giant AS Roma. Lukoszek was a significant contributor to WA's outstanding third placing in the 1968 Malaysian Merdeka Tournament where he scored twice.
Hugh Miller
Hugh Miller, born in Airdrie (Scotland) in 1944, became one of the icons of the game in Western Australia throughout the 1960's and 1970's. He started his time in the First Division with North Perth in 1963 and ended it with Spearwood Dalmatinac in 1979 for a seventeen-season career with many highlights. He also played with Azzurri and East Fremantle Tricolore. He started as a centre forward, being a prolific scorer before being moved to the left wing and then working his way back to centre-half, where he gained his greatest glory. He won won four First Division championships, four D'Orsogna Cups, six Night Series cups and five Top Four Cups. He also coached Dalmatinac for two years and Tricolore for one year. His State career covered thirty-three matches and he was selected as captain on twelve occasions. He also coached the State team for a year.
Peter Mitchell
Peter Mitchell was born into a soccer-mad family in Perth and it was assumed that he would follow his father as a goalkeeper. He was singled out as the best 'keeper in Australia by the rampaging Manchester United side in 1967 despite WA being beaten 7-0, after all, Peter on his State debut had to contend with George Best, Denis Law, Brian Kidd, Bobby Charlton and company. Subsequently he appeared in twenty-nine State internationals gaining selection in two prestigious Malaysian Merdeka tournaments and one Kings Cup in Thailand. In 1967 he was picked in the Australian preliminary squad in recognition of his outstanding ability. He played most of career with the great Cracovia side of the 1960's before a closing chapter with Wanneroo. He won a First Division championship in 1966 followed by the Night Series and a D'Orsogna Cup in 1967.
John Montagu
Born in Liverpool in 1932 ,John Montagu emigrated to Perth in 1961 with a pedigree that indicated he would play a prominent role in the WA game. He played for the Liverpool boys team and was picked in the English schoolboys side that played Italy in the 1949/50 season. He reached the Liverpool reserves side and later had a short stint with Everton at the same level. In WA he joined Athena in 1962 and won the Carbonell Cup for the 'Fairest and Best' player of season 1963. He moved to Azzurri in 1964 where he was appointed captain before being made player-coach of Windmills in 1965. He was picked on five occasions for WA including the ground breaking match against Everton in 1964, the first overseas side to tour Australia following the lifting of a five-year ban by FIFA on foreign teams playing in Australia.
Wladyslaw 'Wally' Musial
One of four Polish internationals brought to Perth by Cracovia in 1965, Wally Musial proved a classical right half with superb judgement that hid his deficiency of speed. A key feature of his game was the ability to spray pin-point accurate passes to all parts of the field. He came to Perth as an international in his own country playing for Polish First Division club Lechia Gdansk. In his four seasons in WA Musial collected a Second Division title (1965) and the following season added the First Division championship to his CV. A Night Series victory was achieved in 1967, and he had the rare distinction of appearing in four consecutive D'Orsogna Cup finals - winning once in 1967. That same year he added a Night Series victory to his credits. It came as no surprise when Wally was picked for the State side representing WA on nine occasions for one goal.
Graham Oughton
Graham Oughton was born in Birmingham (England) in 1940 and emigrated to WA in 1958. His first club was East Claremont Menora followed by stints at Fremantle City and Azzurri before trying his luck in Victoria. On his return he joined East Fremantle Tricolore, first as a player and then player-coach, helping them to ten major trophies, including four First Division championships during what was a golden period for the club. He was selected twenty-three times for WA including touring matches to Asia for the Merdeka tournaments in 1967 and 1970, the latter as captain-coach. In 1968 he moved to Cottesloe as coach and against all expectations guided them to fourth spot, and ended his career with Second Division Cockburn United in 1971.
Theo Paap
A Dutchman born in Amsterdam in 1943, Theo Paap came to Perth in 1956. He was, naturally, attracted to local Dutch club Windmills and entered the club's senior ranks in 1960. He'd stay for sixteen seasons, playing in the heart of the defence with a calm analytical approach. Paap captained the club for ten years from 1964 and won their 'Fairest and Best' award on eight occasions. His winning the Carbonell Cup for the 'Fairest and Best' player in WA a record four times (1964, 1967, 1968 and 1970) mirrored his great impact on the local game. He was a member of teams that won seven major titles including two First Division championships (1961 and 1973), two Night Series' (1969 and 1976), one Top Four Cup (1962) and two D'Orsogna Cups (1974 and 1975). State honours came his way eighteen times including two tours to the Merdeka tournament in Malaysia (1967 and 1969).
Zygmunt 'Ziggie' Pieda
Zygmunt 'Ziggie' Pieda was a 13 time Polish international when he came to WA. He played 203 games for Ruch and a further 65 for Legia Warsaw before being imported by Cracovia in 1965 along with three other Polish internationals. From the start it was clear that he was someone special with on-field skills and exceptional leadership qualities. He played twenty-two times for WA and for much of that time held the position of player-coach. His greatest success came in the 1968 Malaysian Merdeka tournament when he almost guided WA to winning this prestigious tournament, eventually finishing third. He played and coached Cracovia to a first division championship (1966), a D'Orsogna Cup victory (1967) and success in the Night Series final (1967). He won the D'Orsogna medal as 'Man of the Match' in the D'Orsogna Cup final. He also coached with distinction Windmills, Swan Athletic, Kiev and Osborne Park Galeb before retiring in 1984.
Rod Reid
A Kiwi, Rod Reid stamped his authority at both club and State level, playing predominantly as a midfielder or defender. He also scored his share of goals and was consistently among the leaders to catch the eye when it came to votes for the 'Fairest and Best' player. He played the first part of his WA career with Tricolore before moving to arch rivals Azzurri in 1966, a club to which he was appointed player-coach in 1969. He was a member of three First Division championships in succession with Tricolore (1963, 1964 and 1965) and three more successive championships with Azzurri (1967, 1968 and 1969). He also has two Night Series medals to his name as well as two D'Orsogna Cup and one Top Four Cup successes. He was the backbone of WA sides on eleven occasions scoring goals in two matches against South Australia (1963) and Queensland (1964). The highlight of his representative career came in 1965 when he was chosen in an Australian eleven against Moscow Torpedo.
Nino Segon
Born in Trieste (Italy), Nino arrived in WA at the age of 10 and he was developed under the expertise of Azzurri's youth talent program. He was to stay with one club for his entire senior career that started in 1957 and ended in 1970, captaining the side many times during that period. Small in stature, his speed and nose for goals made him one of the most prolific scorers in the game. He notched a hat-trick in the first match played under the auspices of the Soccer Federation in 1960. Later that year he scored four more in the 7-3 demolition of Tricolore in the final of the D'Orsogna Cup. Though he never won the scoring award he never finished below sixth on the table, forging a productive partnership with Johnny Van Oosten that brought many honours to Azzurri. In his time he was a member of Azzurri teams that won six First Division championships, one Charity Cup (1958), one Challenge Cup (1958), five D'Orsogna Cups, three Night Series, and three Top Four Cups. On seventeen occasions he was chosen for WA, making State debut in the 2-2 draw with South Australia in 1960.
Roy Simpson
Born in Scotland in 1933, Roy Simpson was steeped in the football culture of his country, playing for Ayr United and Stranraer. He arrived in Perth on New Years' Day in 1963 and made the Graylands Migrant Hostel his home for a short while. It was from here that he was enticed to North Perth where he stayed for three years before he transferred to Cracovia in 1966 to become part that club's short golden era that won one First Division championship, one D'Orsogna Cup and one Night Series. In 1964 he was picked for WA for the first time, and followed up four more selections including taking the captaincy in his final two representative matches. He reached the pinnacle of his career in 1965 when named captain of an Australian Eleven that fought a thrilling battle against Russian champions Moscow Torpedo before losing 0-2 at the WACA ground.
Pawel 'Paul' Sobek
Pawel Sobek was a Polish international on nine occasions, an Olympian twice, the 1962/93 'Player of the Year' in Silesia, and in total played over 400 club games in Poland. He was bought to Perth by the Cracovia club along with three other players in 1965 and helped change the culture of the game in WA. Within a year he was playing for WA and in all would turn out 33 times for the State, touring three times to the prestigious Malaysian Merdeka tournament. In the 1967 tournament he was the top scorer with six goals. He was instrumental in Cracovia winning the First Division championship when the title race went down to the wire with Sobek scoring the only goal against Azzurri in the final match of the season. He also has a D'Orsogna Cup and Night Series medal from 1967 in his possession.
John Van Oosten
Born in The Hague (Holland), John Van Oosten joined Windmills at the start of his career in 1964 and ten years later ended it with the same club. In between he established himself as one of the most prolific goalscorers in the history of the WA game having scored 213 goals in league matches alone - most of them with Azzurri. Van Oosten can boast five First Division championships, three Night Series, three D'Orsogna Cup and three Top Four Cup medals. He was twice leading scorer in the State in 1968 and 1971 with 29 and 39 goals respectively. His representative career for WA was impressive, playing on twenty-eight occasions, scoring 16 goals. The highlight for John was in almost leading the State to success in the Malaysian Merdeka Tournament in 1968 when WA finished third. He scored six goals on that occasion and for that he was awarded the Merdeka medal for the 'Best Player of the Tournament'.
Chris Wissink
Chris Wissink, who was born in 1946 in Eindhoven (Holland), is yet another in a long line of talented goalkeepers to ply their trade in the west. He starred mostly with Morley Windmills, where he was the recipient of a D'Orsogna Cup medal with the Dutch-backed side in 1974. His most cherished honours include a 'Fairest and Best' trophy for Windmills and two similar awards with Swan Athletic. He also had a spell with Ascot. He represented the WA State team in two Merdeka tournaments, unfortunately, the first in 1967 saw him receive a ruptured spleen during a collision on the pitch which forced him to remain in a Malaysian hospital while his team mates returned to WA. He was outstanding in the same tournament in 1968, thrilling the local fans against South Korea when WA won 3-0 and went on to finish third in the event. He ended up playing twenty-five times for the State.
Last updated 13th July 2014