Pre-Federation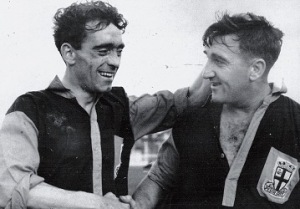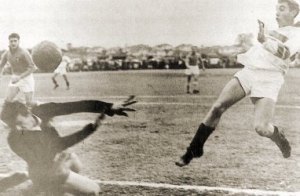 Ron Adair
Born in Londonderry (Northern Ireland) in 1931, Ron Adair arrived in WA in 1949. He joined Victoria Park and in the following eleven years played for North Perth, Maccabeans, Azzurri and Swan Athletic. He made his State debut at the age of 19 against an Australian eleven. He won First Division titles with North Perth (1952) and Swan Athletic (1957) and won the Ledger Medal for the 'Fairest and Best' player in three successive years - 1953 (North Perth), 1954 (Maccabeans) and 1955 (Azzurri). As a defender he was known as the 'Iron Man' and, though less than average height, made up for this with a prodigious leap. He has the distinction of playing in every State match during his WA career, being selected on twenty-three occasions, eleven of those as captain. He was in charge of WA when it finished runner up to New South Wales in the Inter-States carnival in Adelaide in 1954 when he was named the tournament's 'Best player'. He represented Australia on thirteen occasions, making his debut in Adelaide in a 5-0 win over China and capped off a fine performance by being named the 'Find of the Match'. Adair captained Australia against Vienna Rapid (1955) and Hearts (1959).
Top Pic: The great Jack Smethurst (on right) receives some congratulations.
Bottom Pic: John McInroy (right) scores another goal in his amazing career.
Peter Atkinson
English-born Peter Atkinson, a strong resolute defender, played for North Perth, East Fremantle Tricolore and Kiev in a ten-year career in WA. He twice he won the Carbonell Cup (1961, 1962) for the 'Best Player' and also won the Second Division's 'Best Player' award in helping Kiev to promotion in 1964, a feat he emulated with the same club in 1967. Twice he earned a First Division runner's-up medal with Tricolore (1961, 1962), two D'Orosgna Cup winners medals (1961, 1962) and one Top Four Cup medal (1961). In a period when State games were few, including the five-year FIFA embargo on visits by foreign teams to Australia, Peter was selected eleven times for WA. His first international taste was in 1957 against the Hungarian side Ferenczvaros and nine year later bowed out in the thrilling clash with the Italian champions AS Roma in which Atkinson gave the best display of his career.
Alan Beale
A true West Australian, Alan Beale was born in 1920 and gave his life to the local game for more than sixty years as a player, coach and administrator. He played his first game as a junior with Spearwood Rovers in 1934 and remained loyal to the same club, despite the name change, for the rest of his life. In 1940 he was appointed captain of Spearwood, a position he retained for the rest of his playing career. He guided the club to success in the Challenge Cup in 1941 and the Charity Cup in 1950. Beale scored more than 600 goals in his senior career, 200 of those in the First Division. In his thirteen-year First Division career he filled a top three spot on the State's goal scoring list in each season. He played six times for WA, making his debut against South Africa in 1947 and scored both goals in the 2-12 loss. Beale was the top scorer with six goals when WA won the interstate carnival in Adelaide in 1948.
John Beveridge
John Beveridge, born in Scotland, started his senior career at the age of 18 as a full-back with the famous Caledonians club in 1952. He then moved to Sokol in 1953 before going back to Caledonians and finally to Azzurri in 1955 where he blossomed into one the premier players in the State. It is strange that for one so talented he only figured in two major trophies, both Azzurri's Charity Cup successes of 1955 and 1956. He was a tough, skilful competitor and made such an impression that he gained the first of his eleven selections in the State side that drew 1-1 with Australia in 1952. In WA's next outings two years later he appeared in four of the five matches at an interstate carnival in Adelaide in which WA won three games, drew one and lost one. Beveridge gained selection for Australia against the touring Hungarian side Ferenczvaros in 1957. He played another five matches for WA before being injured in a car crash that left him in a wheelchair. He was to die prematurely a few years later.
George Henry Burt
One of the founders of soccer in Western Australia, George Henry Burt was born in 1893 and died in 1969. Along with his brothers Reginald and Frederick, George learned much of his football at Repton College in Derby (England). George, however, was regarded as the best of the trio and was widely regared as the State's most skilful centre forward of the era. Burt was quick, had excellent creative qualities and could shoot on the run with notable power and accuracy. His father, Septimus Burt, held the WA Attorney General post (1890-1897) and was patron of the Civil Services Football Club during that period. George represented the State's governing body for association football after the Great War, and was also a vice-president of the WA Cricket Association. The Burt family were inducted into the WA Football Hall of Fame in 1996.
Robert Cherry
Scotland has provided the local scene with many players and Bob Cherry is just one of them, born in the bonnie country in 1922. He emigrated to WA in 1929 and started playing the game at Rosalie Primary School where he was appointed school captain for 1933 and 1934. His career spanned more than thirty years, playing most of that time with Subiaco/Shenton Park with the only interruption being one season at Perth City. He ended as coach of the successful South Perth side of the 1950's. Cherry played many times for the State and was named captain on a number of occasions, including important matches against Hadjuk Split (1949) and Australia (1950). He was a key member of the WA side that won the inter-states carnival in Adelaide in 1948. In a different era it is considered he would have played for Australia.
Jack Conduit
Born in England, Jack Conduit arrived in WA following World War One and was only in Perth a few days when he started playing for Perth City juniors in 1919. For the next twenty years this remarkable striker made a major impact, playing 80 games with Perth City and 262 matches with Victoria Park. His presence with the latter coincided with nine league championships, six of those in succession. He scored a remarkable 421 goals in his 262 games with Victoria Park and was regarded as the most dangerous and brilliant of strikers in the post World War Two period. He was picked ten times for the State, playing against all the pre-war touring sides such as China, Czechoslovakia, India and Palestine. He tried his luck with the English First Division side Blackpool in the 1930-32 seasons before returning to Perth.
Royston Macaulay Evans
Born in South Australia, Royston Macaulay Evans came to WA at the turn of the 20th century and joined the Civil Service club and then Rangers, the two clubs eventually merging with the help of Evans himself. Newspaper reports of the day describe him as "one of the fastest men on two feet", and "A dash by Mac towards the goal was always thrilling and nearly always brought its due reward." He was in the inaugural knockout Cup final in 1903, though on the losing end. His talents were recognised in 1905 when he was selected in the WA side that travelled to South Australia - the first trip by a State side. He was also chosen for an extensive tour of the East in 1909 in which WA played ten matches winning three, losing three and drawing four. Then he played in a three match home series against South Australia in 1910, the last representative matches before World War One. He was too old to resume playing seriously when State and local matches returned to the sporting scene in 1925. He turned his attention to administration with the old Soccer Football Association as an executive and vice-president, retiring at the age of 72. He died in 1977 aged 93.
James Gordon
Born in Scotland, "Wee" Jimmy Gordon emigrated to Australia in 1910 and joined Rangers before moving on to Northern Casuals in 1913, the year the club was formed. He had hardly pulled on his playing boots when, like most players of the day, he signed up to fight in World War One. On his return he joined Perth City and, despite a broken leg in 1921, became a prolific goal scorer - in one season alone he scored 78 goals, one of the highest tallies for any season in the First Division. Along with his brother Andy, he played in most of the State games of the 1920's and 1930's and scored all the goals in the 1925 5-3 victory over the England cricket eleven. Gordon continued in the sport after he retired from playing, fostering juniors and filling the post of vice-president with the Junior Association.
John Henderson
John Henderson, a West Australian through and through, was one of the few players ever to be selected in a State side while still playing with a country team. He started out with Rosa Brook in the Cowaramah district before advancing his playing ambitions in 1933 by moving to Perth and signing on for Victoria Park. He played 120 First Division games for Victoria Park as captain and his tremendous leadership qualities contributed to six successive League premierships in the 1930's. He also captained the State side against India and appeared in all State team games during in the 1930's. His First Division career spanned eleven years before World War Two forced him to put away his playing boots and put on his marching shoes.
Stewart Johnson
Born in WA in 1922, Stewart Johnson began his playing career with South Perth juniors in 1934. His senior career began in 1939 with the then all-powerful Caledonians for whom he'd play until 1948, albeit interrupted by World War Two. He then moved back with South Perth, a powerful entity in the 1940's through the early 1950's. He played in five State matches at a time when opportunities were scarce for such honours. In his fourteen year senior career he won the club's most valuable player award on twelve occasions. In a poll towards the end of his career his peers voted him the most difficult defender to overcome and he was named the best home-grown talent of his time.
Don McArdle
Don McArdle was born in Scotland in 1934 and arrived in WA as a 15-year old. He started his twenty-year playing career with Shenton Park, who had changed their name to Subiaco City in 1951, and was part of the team that won the Second Division and promotion in 1952. He rejoined Subiaco in 1965 and, as player-coach, repeated history by guiding the club to the Second Division championship. His twelve-season First Division career as a left-back was studded with honours, highlighted by three First Division championships with North Perth (1956) and Azzurri (1959 and 1960). He also won three D'Orsogna Cups with North Perth (1956 and 1964) and Azzurri (1960), three Top Four Cups with North Perth (1964) and Azzurri (1958), one Night Series with North Perth (1964) and one Association Cup with Azzurri (1958). He made seventeen State appearances playing at left-back and was selected for Australia against Hearts.
John McInroy
John McInroy, born in Dundee in 1938, is one of Western Australia's legendary goalscorers. He was only 19-years old when he won the first of eight successive leading goalscorer awards, bagging thirty plus goals in all but two seasons including his best tally of 48 in 1963. He retired from the game in 1966, but three years later made a successful comeback by again topping the goalscoring charts with a haul of twenty. In one match, against Perth City on the anniversary of D-Day 1959, he scored nine goals, the most at the time by any one player in a post-war league match - a feat that was only equalled in 1990. He had a one season stay in Sydney but for the rest he remained loyal to one club, East Fremantle Tricolore, helping them to ten major trophies including four First Division championships (1958, 1963, 1964, and 1965). McInroy was selected on ten occasions for State duty. He became a Hall of Fame Legend in 2005.
Frank McShane
Generally regarded as one of the 'Greats' to have played the game in WA, Frank McShane was born in Scotland in 1920 and moved to WA with his family in 1924. He started his playing career with the Cowaramup junior club before moving to Perth and joining Victoria Park juniors, stepping up to the senior side when aged just 15! He then transferred to Swan Valley and finally to South Perth, where he played until retirement at the age of 41. He was at the top level for twenty-six years during which time he was an automatic selection in State and international matches between 1946 and 1956. McShane won the Ledger Medal for the best player in WA in 1952 and throughout his career won more than twenty individual trophies.
Alex Marr
Alex (Sandy) Marr was born in Scotland in 1892 and arrived in WA in 1911, aged 19. As a goalkeeper there were few to match his skill and ability throughout the 1920's and 1930's. He played his first game in WA with Fremantle Rovers in 1912 and then was involved with Fremantle Caledonian. But as with most young sporting men of the time, World War One intervened in his career. He returned to resume his career with Thistle from 1919 to 1922, then helped reform Fremantle Caledonian who became one of the leading clubs of the time. Once State games resumed in the mid-1920's Maar was an automatic inclusion as goalkeeper, a position he held until World War Two. After his playing days, Marr devoted the rest of his life to the game, serving for a long time on the committee of the Caledonian club. He was also elected to the presidency of the Soccer Association of WA and served as a State selector.
Gil Nobbs
A Scot through and through, Gil Nobbs made WA his home in 1952 and quickly established a reputation as a fearsome fullback in the traditional image of the British defender. He made his State debut against Queensland in the National championships in Adelaide in 1954 and played his last international against Greece in 1969. In between he played a further thirteen games for the State. He returned to Britain for a holiday in 1955 only to be caught in a three-year stay with the national service. His career in WA spanned seventeen years starting with North Perth (three times), Perth City, Azzurri (twice), South Perth, Cracovia and Kiev and retiring in 1971. Nobbs won three First Division championships along with six knockout cups, two associations Cups, four D'Orsogna Cups, three Night Series, two Top Four Cups and one Ascot Cup.
Conrad Purser
Con Purser, born in Collie in 1931, was the first WA-born player to be selected in an Australian football side at an Olympic Games - the Melbourne Games in 1956. He played eighteen times for WA and was captain on nine occasions, making his State debut against South Africa in 1955, and then was appointed as the playing-coach of WA in 1957 and 1958. Loyalty to club kept him at North Perth for his thirteen season senior career, winning five major trophies that included three First Division championships (1952, 1955 and 1956), one Top Four Challenge Cup (1952) and an Association Cup (1954). He captained North Perth for five years and coached the club's first team for several seasons. He was runner-up in the Ledger Medal for the 'Fairest and Best' player in 1954 and 1955, having to settle for second best against the best player of the era in Ron Adair.
Albert 'Bert' Robertson
Born in Dundee (Scotland) in 1917, Bert Robertson was one of Perth's top post-World War 2 strikers. He first experienced senior football at Dundee United with whom he played two seasons before the outbreak of war in Europe. Robertson initially played in Perth in 1944 as captain of the Royal Navy team against local naval sides before emigrating to WA three years later. He joined Spearwood Rovers in 1947, had a spell with North Perth and then moved to Fremantle City in 1949. He returned to North Perth until 1954, when he signed for Perth City for two seasons. He was second to Azzurri's Edmundo Faletti for the First Division goalscorer's list in 1952 while captain of North Perth but made up for it two years later by winning the honour with Perth City. His State debut was in the Southern States Carnival in Adelaide in 1948, which WA won. His last success came as the coach of Perth Azzurri, who clinched both the league and D'Orsogna Cup double in 1960. He died in 2007, aged 89.
Jack Smethurst
Jack Smethurst, born in the United Kingdom in 1925, arrived in WA five eyars later. At the age of 13 he was selected for a senior Metropolitan Suburban League team playing in the Eastern Goldfields league where he won the 'Fairest and Best' medal. At 16 he was selected for the WA side that played Palestine. Drafted into the navy in 1943, he continued to play, signing with the Leichhardt Annadale club in Sydney. After the war he returned to WA and was never out of the State side for international and interstate matches between 1948 and 1952, appearing again in 1955. Smethurst's presence in a number of positions from attack to the last line of defence did much to help Caledonians and then Perth City to periods of dominance in the WA First Division. He shone as one of the greats during an extremely competitive era. For many years in retirement he gave back to the code with help and guidance to young players.
Doug Stewart
Doug Stewart was born in Burma and represented his country before emigrating to WA in 1954 and joining North Perth. He enjoyed immediate success with his new club, helping them win the First Division championship in 1955 and 1956. In 1957 he joined East Fremantle Tricolore and a year later added another championship to his CV. He can point to a Top Four Cup medal with Tricolore in 1961 and a D'Orsogna Cup success in the same year. He was selected eleven times for WA and achieved the ultimate accolade of being picked twice to wear Australia's colours against Blackpool (1958) and Hearts (1959). He scored three goals for WA, getting two in a 2-2 draw with South Australia and one goal in a 2-0 victory in the return match in April 1960. Stewart coached a number of clubs in WA including guiding Azzurri to two First Division championships in 1967 and 1968. He also had control of the State side on seven occasions.
Zdislaw 'Joe' Szymanski
Born in Poland, Zdislaw 'Joe' Szymanski arrived in WA in 1950 and in his fifteen-year league career played mainly as a winger with Cracovia (two spells) Sokol, Azzurri and Swan Valley. In his final season he helped Cracovia win the 1965 Second Division title and promotion to the top flight. Small in stature yet hardy, Szymanski was almost lost to WA football such was his impact in the 1954 National championships in Adelaide as South Australian and Victorian clubs clamoured for his signature. In the championship he scored twice in a 4-2 win over the hosts and a few days later notched a hat-trick against Queensland as he helped WA to runners-up place to the powerful New South Wales outfit. In all he played five times for WA, scoring five goals in the process. It was a mark of his ability that Szymanski was selected for the 1955 international against South Africa while playing for Second Division Cracovia.
Mira Ulehla
Czech-born Mira Ulehla was an immediate sensation when he arrived in Perth in 1951 and joined the powerhouse of the day, Azzurri, being appointed captain in 1952. That year the Blues just missed out on the First Division championship and settled for winning the Charity Cup. Sokol enticed a number of star players, including Ulehla, to join them in 1953, but he rejoined Azzurri in 1955 after Sokol had been relegated. Nicknamed 'The Professor' for his total command of the midfield, Ulehla was regarded as one of the best players during the 1950's, a time when WA football was liberally sprinkled with imported players of exceptional ability. It was a time of mass immigration to Australia from a war-ravaged Europe and many a player arrived with a football pedigree that included a professional association with clubs in their homeland. Ulehla underlined his quality by winning the Ledger medal for the 'Fairest and Best' player of the year in 1957. It is a mystery to many that Ulehla played only twice for WA - against Vienna Rapide and South Africa in 1955. He tried his hand as a coach at Azzurri in 1957 and then disappeared from the WA scene shortly after moving to the United States to pursue his interrupted profession as a maths teacher.
Wiliam Waddell
Although born in Scotland, William Waddell was a product of WA, having arrived in Fremantle when he was only two years old. His career started with Maylands juniors in 1925 before he moved into the senior ranks with Perth City in 1928 and then on to Thistle in 1930. He made his final move to Caledonians to join a host of other Scotsmen in one of the most successful teams of the era and stayed with that club for fifteen seasons. His eighteen years at the top was marked by exceptional skill and a tremendous burst of speed on the right wing. One newspaper report described him as the best goal creator seen in WA. He was also a talented athlete, winning many State trophies in the 100-yard sprint. Waddell played in every State match between 1937 and 1947 - six games.
Don West
A West Australian, Don West entered the senior ranks of North Perth when he was 18 and remained loyal to that club throughout his senior career He was selected twelve times for WA in a period when State matches were rare. Once he was picked in 1955 he remained a permanent fixture in defence or midfield for the remainder of the decade, and capped off a productive career by being named in the Australian side that met Stanley Mathews' Blackpool side in Adelaide in 1958. West was a member of the North Perth side that won the First Division championship in 1955 and 1956, and the Charity Cup in 1954.
Last updated 9th August, 2014