Hall of Merit for Players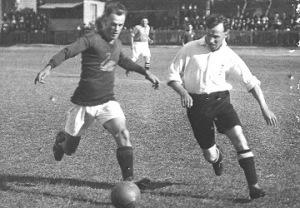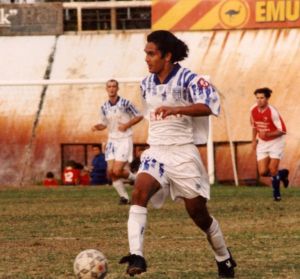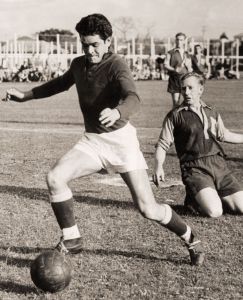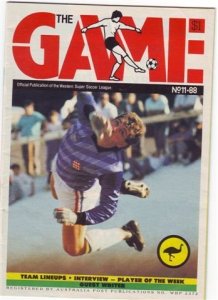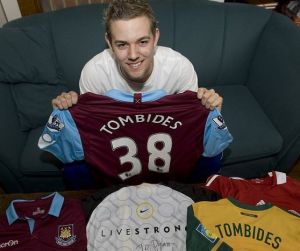 Peter Atkinson (inducted 2012)
Peter Atkinson arrived in Western Australia from Blackpool in 1949. After turning out for Balmoral Rangers, the strong defender went on to play for South Perth, North Perth, East Fremantle Tricolore, Kiev and Cracovia. Atkinson won the league's top award, the Fairest and Best, in 1961 and 1962 and also gained the second division's Top Player prize in helping Kiev to promotion in 1964. He won D'Orsogna Cup medals with Tricolore (1961, 1962) and two league runners-up medals. Atkinson played 11 times for the State.
Alan Armstrong (inducted 2016)
Born in Wales, but brought up in Bunbury, Alan played with Burnbury City as a junior. A tall defender, he was picked for Australian High Schools team that toured England. Derby County wanted to sign him, but returned to WA and teamed up with Stirling Macedonia (winning multiple league and cup trophies). He won more titles with Athena and also played for ECU Joondalup. Perth Glory wanted to sign him, but declined as his Police Service came first. Did play some friendly games with Glory and scored their first ever goal. Played four times for WA and rated best header of the ball in his day.
Troy Bernard (inducted 2012)
Troy Bernard was a wonderfully gifted midfielder or sweeper whose career was tragically cut short at the age of 25. Perth Glory was anxious to sign Bernard before his 18th birthday but couldn't agree a fee with his club, Floreat Athena. He played a key role in Floreat's triple-winning 1997 season when they scooped the league title, Boral Cup and Night Series. Bernard was man of the match in the 1999 Boral Cup Final and three years later became one of the youngest players to captain the State when, aged 22, he led Western Australia against South Australia. He died in 2004 as the result of a work accident as a Western Power linesman.
Steve Bourne (inducted 2016)
Born in Birmingham, Steve was an impressive, attacking midfielder with a great eye for goal. Played initially with Rockingham and then was a key contributor in the Stirling Macedonia side that won several league titles and cups in the 1990s. Also won league crown with Fremantle City. He was the third top scorer in the Perth Kangaroos side that won the Singapore League in 1994. Played 10 times for WA and captained the State side several times. Turned down a chance to join Perth Glory for family reasons.
Harry Boys (inducted 2008)
One of the shining lights in the early days of the game, Harry Boys was born in Claremont in 1900 and was an outstanding sporting all-rounder. He was considered the premier defender of his day and made his State team debut against the England Cricket XI in 1925. Two months later he played against an England Amateur XI and was soon after invited to try out for Arsenal, but decided not to make such a long trip as he had just become a father. He was picked to play for Australia in Adelaide the same year, becoming the first WA-born player to represent the national team. He died in 2000, a week short of his 100th birthday.
Top Pic: Harry Boys (left) in action against England at Fremantle Oval in 1925. Second Pic: Troy Bernard shows his style for Floreat Athena. Third Pic: Edmundo Faletti heads for goal when playing for Perth Azzurri in the 1950s. Fourth Pic: Dave Roxby graces the cover of The Game with a spectacular save when playing for North Perth Croatia against Floreat Athena in 1988. Fifth Pic: Dylan Tombides after signing for West Ham.
Tommy Carruthers (inducted 2016)
Scottish-born Tommy caught the eye when he played at full-back for WA in under-19s carnival in South Aust in 1963. He went on to play 18 senior games for WA; Won night series with North Perth and Morley Windmills; Won one league, two cups and two night series with Perth Azzurri. Broke leg twice in one season which restricted his trophy haul.
Geoff Cole (inducted 2008)
Born in County Durham, England, Geoff Cole came to WA at age 16 and was an outstanding defender throughout the 1970's and 1980's. He played over 640 games for Kwinana United, East Fremantle Tricolore, Rockingham City, Gosnells City and Spearwood Dalmatinac, with whom he won two league titles. Cole also won six D'Orsogna Cup medals, three each with Dalmatinac and Tricolore. He collected two D'Orsogna Cup best player medals and was runner-up on Gold Medal night in 1976 and 1980. Cole won ten club fairest and best awards and played five times for the State.
Alex Cummings (inducted 2016)
Born in Glasgow, Alex was only four when his parents came to WA. A junior with Forrestfield, he gained an AIS scholarship and was capped by Australia for the 1987 World Youth c'ship in Chile. A midfielder or defender, he played in the NSL with Brisbane Lions and Morwell Falcons before returning to WA and linking up with Bayswater, Stirling Macedonia, Spearwood Dalmatinac and Western Knights, winning many trophies. He was another key man in the Perth Kangaroos side that won the Singapore League and played 21 times for WA.
Alf DeBono (inducted 2012)
Alf DeBono, who was born in Malta, was one of Western Australia's hottest talents, gaining State selection in 1967 on his 16th birthday. That outing with New Zealand was made all the more memorable when he scored a goal. DeBono, a skilful player with terrific poise, turned down the chance to join Manchester City as a teenager. He went on to play for Perth Azzurri, Cracovia, Bayswater City, Morley Windmills, East Fremantle Tricolore and Floreat Athena, winning three league championships, five Night Series', two D'Orsogna Cups and one Top Four Cup. He made 13 appearances for the State.
Rene de Koning (inducted 2008)
Dutch-born Rene de Koning is one of the classiest and coolest defenders to ever grace the local stage. He emigrated to WA with his family in 1980 and joined Bayswater as a schoolboy. His first team debut came as a 17-year old in the Third Division and he would spend 17 seasons with Bayswater, winning the 1987 Night Series. In 1991 he was awarded the Gold Medal and turned out 28 times at State representative level.
Keven Elliott (inducted 2016)
English-born Keven was a dynamic striker who made a stunning impact when he came to WA in 1982, winning numerous trophies with Spearwood Dalmatinac, Perth Azzurri and Stirling Macedonia. He won an astonishing five D'Orsogna Cup medals, and two Cup fairest and best awards. Top scored in the State League in 1984 and 1986.
Edmundo Faletti (inducted 2012)
Edmundo Faletti was a classy striker who came from Italy in 1950 to join Azzurri. He was an instant hit and scored a hat-trick in the 3-2 Caris Cup win over Victoria Park. He was picked for the State the following year — playing twice against Australia at the WACA Ground — and then top scored in the league in 1952. Faletti won three titles with Azzurri in 1953 but ill-health prematurely ended his playing career in 1955. Faletti, who also coached Azzurri, died in December 2011, aged 83.
Frank Faraone (inducted 2012)
Western Australian-born Frank Faraone was an outstanding junior and made his Azzurri senior debut at full-back when just 16. In 1982 he played for the Australian youth team against Brazil and Mexico, and scored in the 4-3 win over New Zealand. Faraone made his State team debut against Queens Park Rangers in 1983 and played in WA's famous 2-1 win over Australia. In all, he won 15 State caps. Faraone won a league and cup medal with Azzurri and later captained East Fremantle Tricolore before a bad knee injury ended his career at the age of 22. He later coached Future Glory and Bayswater City.
Glenn Giudici (inducted 2012)
Glenn Giudici was an outstanding goalkeeper in his junior years and went on to gain selection for Western Australia from Under-11 to Under-19, twice winning All-Australian junior selection. Giudici played with Perth Azzurri from 1979 to 1987 and also had a brief loan with Morley Windmills. He won 12 senior State caps, including the 2-1 victory over the Socceroos in 1983. He is now goalkeeper coach with Perth SC and was responsible for the development of young stars Tando Velaphi and Mark Birighitti, who was selected in the Australian squad for the 2014 World Cup in Brazil.
Ernie Hannigan (inducted 2012)
A fast, tricky winger, Ernie Hannigan played with Queen of the South in Scotland before joining Coventry City and later Preston North End. He had a spell with New York Cosmos before coming to Perth in 1973 and going on to win a D'Orsogna Cup medal with Morley Windmills, taking the player-of-the-match honours. He made his State debut against Aberdeen in 1974 and later figured in the State side that won the 1975 Marah Halim Cup. In all, he played 12 times for Western Australia. Hannigan was player-coach of Stirling Macedonia and Spearwood Dalmatinac and later coached Galeb, Yugal and Inglewood.
John Hunter (inducted 2016)
A tall, impressive striker with a dynamic left foot, Scottish-born John was the league's top scorer with Stirling Macedonia in 1987 and again in 1990 with Floreat Athena with 31 goals from just 17 games, which included five hat-tricks. He won the Gold Medal as the fairest and best that year. John won league titles with Athena and Inglewood in 1996 when he returned to WA after a lengthy spell in Asia.
Peter Johnston (inducted 2016)
Born in Dublin, Peter played with St. Patrick's Athletic before coming to WA in 1970. A talented utility, he played over 560 State League games for clubs like Morley Windmills, Swan Valley and West Perth Macedonia. He captained Windmills to success in the league and the D'Orsogna Cup. Played 31 times for WA, including the winning Marah Halim Cup side in 1976.
David Kamasz (inducted 2008)
David Kamasz played with the Leeds United schoolboys at the age of 15 before emigrating to Australia with his family, which included brothers Stefan and Stuart. After playing club football in Northern New South Wales, he was signed by national league side Newcastle KB United in 1980, staying there for two seasons. The speedy right winger moved to Perth and was a key player with Spearwood Dalmatinac, winning two State league titles and three successive D'Orsogna Cups. Kamasz later joined Rockingham City, represented the State on sixteen occasions and was a vital player in WA's 2-1 win against Australia in 1983.
Willie Kelly (inducted 2016)
A dynamic striker, Willie came to WA from Scotland in 1980. He was a key member of the Perth Azzurri side that was unbeaten when winning the league in 1981. Also won D'Orsogne Cup and Night Series. Then won league (unbeaten), Cup and Top Four with Spearwood Dalmatinac. Played six times for WA; Coached Stirling Maceodonia to D'Orsogna Cup in 1992, and twice runners-up in league with Maceys; assist coach to Western Knights, won two leagues and cups.
Robert Lee (inducted 2016)
A powerful forward, Robert came to WA from England in 1969 and joined Cottesloe, finishing as the second highest scorer in the league with 16 goals. He moved to Morley and won the league title in 1973. Also shone with Inglewood, Olympic and Sorrento, winning their fairest and best three times. Played 10 times for WA.
Bruno Marocchi (inducted 2016)
Bruno, the oldest of the famous Marocchi brothers, made a dynamic impact in his playing days with Perth Azzurri, captaining the team and winning five league titles, four D'Orsogna Cups and four Night Series. Alos won the D'Orsogna Cup with East Fremantle Tricolore and finished his career with Balcatta Etna. He coached the inaugural Azzurri women's team. He played at under-16 level for WA and won 26 State senior caps.
Steve Martin (inducted 2012)
Steve Martin was the first West Australian to be picked for an Australian junior side when he played for the national Under-15 team against England schoolboys in 1974. He was picked for the senior State team for the 1975 Marah Halim tournament but had to withdraw because of school studies. In 1976 he played for the State against Sunderland, aged just 16, and also faced Hertha Berlin and Middlesbrough while still a teenager. He broke his leg in 1979 and was out for two years, but made a comeback to play against Nottingham Forest in 1984. At club level he turned out for Floreat Athena, North Perth Croatia and Bayswater Inter. Martin made 11 appearances for the Western Australia and went to become goalkeeper-coach with Sorrento.
Michele Matthews (inducted 2016)
Michele played in the Girrawheen women's team from aged 12 and then went on to play for Kiev Eagles, Ascot, Stirling Vasto and Morley Windmills, winning nine trophies with them. She was 17 when picked for the State team, going on to represent WA for 16 years, playing as a speedy striker or winger. She was an Australian All-Star in 1998. She top scored in a Kuala Lumpur tourney in 1999. Won 12 fairest and best awards and eight league titles. She also coached Subiaco for five years.
Peter Murphy (inducted 2012)
Peter Murphy emigrated from Scotland to join East Fremantle Tricolore in 1984, and turned in a succession of terrific goalscoring performances. He joined Perth Italia and bagged nine goals in the 10-1 league win over Kwinana United in 1990. Murphy starred for Italia in their 1990 and 1991 Super League grand final successes and in the club's 1993 league win. He won the D'Orsogna Cup with both Italia and Stirling Macedonia, played national league with Melbourne Croatia and, at the age of 33, was league's top goal scorer with Swan IC. He played seven times for the State and later went on to briefly coach the State team.
Brian Newell (inducted 2012)
English-born Brian Newell joined Azzurri in 1970 and became a pivotal midfield figure. He won the Gold Medal in 1971 when he was a member of the First Division championship team, a side that was considered the best Azzurri had fielded since the all-conquering 1953 combination. Newell also has three Night Series, two Top Four Cup and three D'Orosgna Cup winners medals to his name, including a man of the match award in 1973. He was picked 11 times for Western Australia.
Frank Reid (inducted 2008)
Scottish-born defender Frank Reid arrived in WA just after World War Two and played five times for the State at a time when representative games were rare. He won two league titles with Perth City and also a Challenge Cup, Charity Cup and Southern Carnival. Reid won two club fairest and bests — and he was considered by State team coach Alex Mansfield as the best full-back of his generation. Frank died in 2012.
Dave Roxby (inducted 2008)
A goalkeeper at youth level with Newcastle United and Sunderland in England, Dave Roxby joined New Zealand team Stop Out and then Sydney City in the national league. He moved to Perth in 1983 and had three seasons with East Fremantle Tricolore before winning a State league title and a D'Orsogna Cup at Spearwood Dalmatinac. Roxby captained North Perth Croatia for three seasons, was twice Goalkeeper of the Year and made ten State appearances. He was later goalkeeper coach with the State senior team and also with the State Under-19, Under-16 and Under-15 sides.
Alex Senjuschenko (inducted 2008)
Born in Germany to Russian parents, Alex Senjuschenko arrived in Australia in the early 1950's. He went on to become a stalwart at centre half with Inglewood Kiev and was one of the State's youngest captains when he skippered WA in the 2-2 draw against Hertha Berlin in 1970. In all, he played fourteen times at representative level. After completing National Service, he relocated to Queensland and played seven times for that State. Senjuschenko was recommended as a possible for Rale Rasic's 1974 World Cup squad but did not get the call from the coach. He returned to WA, playing briefly for Morley before coaching the State amateur and State women's teams. Alex died, aged 62, in 2012.
Mike Smith (inducted 2012)
Welsh-born striker Mike Smith was only 16 when chosen for Kwinana United's first team in 1974. He went on to enjoy a successful career with East Fremantle Tricolore, Gosnells City, Spearwood Dalmatinac and Rockingham City. Smith won a league title with Spearwood in 1985, when he was the league's joint top scorer. He played in seven D'Orsogna Cup finals, winning four and represented Western Australia on five occasions. In 1995 he coached third division Cockburn City to the title and later represent the State at amateur level in a tour of Singapore.
Steve Stacey (inducted 2012)
Born in Bristol, England, Steve Stacey was a dashing full-back who had 14 seasons in English football with Bristol City, Wrexham United, Ipswich Town and Exeter City. He arrived in Perth at the age of 30 in 1974 and enjoyed four seasons in the first division with Floreat Athena, guiding them to a championship and Top Four Cup, and Rockingham City. He made 15 appearances for Western Australia and captained the State team to victory at the Marah Halim Cup tournament in Indonesia in 1975. He has held various administrative positions in the sport, including being a member of the executive of the Soccer Federation of WA.
Dylan Tombides (inducted 2016)
Dylan, who died of cancer aged 20 in 2014 when on the cusp of a magnificent career, is being posthumously inducted. He played five times for Aust U-17s, including the World U-17 Cup, and four times for Aust u-23s in the Asian championship. He was a junior with Perth SC and Stirling Lions, joined West Ham in 2010 and starred in youth and reserve team. He made one appearance in senior side at age 18. His parents established the DT38 charitable foundation to make young people aware of testicular cancer. West Ham honoured him with a special plaque outside new new Olympic stadium home.
Paul Tombides (inducted 2012)
A powerful attacker, Paul Tombides started his career with Kingsway Olympic and went on to play for Perth Azzurri and West Perth Macedonia. He won many league titles and cups with all three teams, including the Stirling side that collected a a hat-trick of Cups in 1983, 1984 and 1985. Tombides gained selection for Australian at the World Under-20 Cup in 1978 and made one appearance. He also figured in the international warm-up games against Hertha Berlin and Vardar Skopje. At local level, he won the Golden Boot in 1981 and 1983. Tombides played three times for the State side before a brief coaching spell with Macedonia. He was later chief executive of Soccer West Coast for six years.
Steve Tombides (inducted 2012)
A classy defender with a cool head, Steve Tombides made his senior debut at just 14 with Kingsway Olympic and went on to star in the famous 'Green Machine' team that swept all before it in the 1970's. He won two championships with Kingsway and took another title with Azzurri — the famous unbeaten 1981 league team — before completing a hat-trick of league medals with Stirling Macedonia. He also won five Night Series titles and two D'Orsogna Cups. Always a wonderful asset to State teams, he represented Western Australian 10 times before knee troubles forced him to retire in 1986.
Aldo Trinca (inducted 2016)
Perth-born Aldo was a no-nonsense defender who shone for one club, Perth Azzurri, and later coached Perth Italia. His trophy-haul with Azzurri was impressive, winning three league titles, one D'Orsogna Cup and several Night Series. He played 16 times for WA, making an impressive debut in the Marah Halim Cup tournament in Indonesia in 1975. Played in all eight games in that series, including the final in which WA beat South Korea 2-0.
Last updated 2nd December 2016