Hall of Legends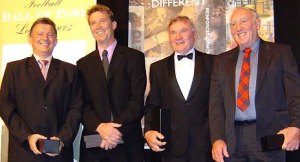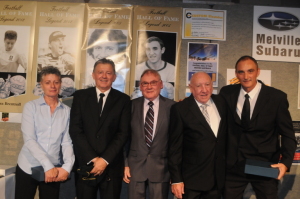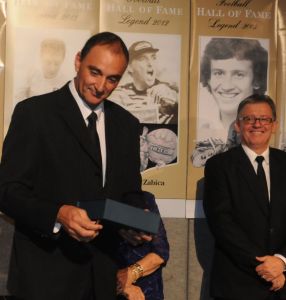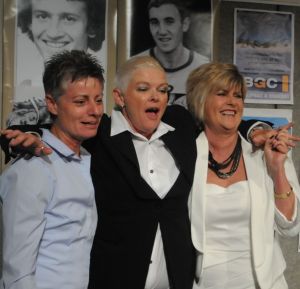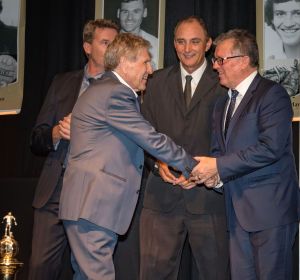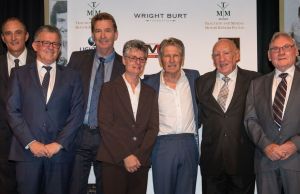 WHEN CHAMPIONS BECOME LEGENDS...
Six Champion players, and WA's most successful coach, have been elevated to the Hall of Legends since the category was established in 2005 - making a Magnificent Seven. They are:
Ron Adair (inducted 2005)
Born in Londonderry (Northern Ireland) in 1931, Ron Adair arrived in WA in 1949. He joined Victoria Park and in the following eleven years played for North Perth, Maccabeans, Azzurri and Swan Athletic. He made his State debut at the age of 19 against an Australian eleven. He won First Division titles with North Perth (1952) and Swan Athletic (1957) and won the Ledger Medal for the 'Fairest and Best' player three successive years - 1953 (North Perth), 1954 (Maccabeans) and 1955 (Azzurri). As a defender he was known as the 'Iron Man' and, though less than average height, made up for this with a prodigious leap. He has the distinction of playing in every State match during his WA career, being selected on twenty-three occasions, eleven of those as captain. He was in charge of WA when it finished runner up to New South Wales in the Inter-States carnival in Adelaide in 1954 when he was named the tournament's 'Best player'. He represented Australia on thirteen occasions, making his debut in Adelaide in a 5-0 win over China and capped off a fine performance by being named the 'Find of the Match'. Adair captained Australia against Vienna Rapid (1955) and Hearts (1959). Inducted into the Hall of Champions in 1996, and elevated to Hall of Legends in 2005.
Sandra Brentnall (inducted 2012)
Born in England, Sandra Brentnall emigrated with her family to Perth in 1974. She initially played with boys' teams at school but started her senior women's career aged 13 with Inglewood Kiev, finishing her debut season as top goal scorer. Brentnall's State career began at the age of 15 on Western Australia's tour of Asia where she scored seven times. A year later she gained selection in the Australian team that competed in the 1978 World Women's Invitational Tournament — a forerunner to the World Cup — in Taiwan. It was the first of 19 appearances - 11 in 'A' internationals - she made for Australia. In 1979 Brentnall scored Australia's first goal in 'A' international football and the following year became the first Australian to score a hat-trick, both acheived against New Zealand. She was a permanent fixture in the State side between 1977 and 1984, and was a key figure in the squad that won the Australian national women's championship in 1978. At club level, she won the State League best player award six times and was top goal scorer on nine occasions. Inducted into the Hall of Champions in 1996 and elevated to Hall of Legends in 2012.
Robbie Dunn (inducted 2005)
Robbie Dunn, born in Scotland, is Western Australia's second most capped international with forty-four appearances for Australia, and one of the nation's most outstanding defenders. He started his career with Kwinana United, moved to North Perth Croatia before travelling east as a 17-year old to join West Adelaide which was followed by spells with Preston Makedonia and Melbourne Croatia in an 168 game, 54 goal national league career - quite an achievement for a central defender! He scored five goals for Australia, two in World Cup qualifiers, and played in the 1988 Olympic Games when Australia made the quarter-finals. Five times he won the club 'Fairest and Best' award while in Melbourne. It was back to WA in 1989 to play for Perth Italia followed by two seasons with South China (Hong Kong) and another with Sarawak (Malaysia). Dunn played only once for WA, that being against English club Milwall in 1989. He ended his playing days with North Perth Croatia in 1992 as player/coach, followed by a short comeback with Second Division Cockburn United in 1995. Has had a spell as State team coach. Inducted into the Hall of Champions in 2002 and elevated to Hall of Legends in 2005.
Gary Marocchi (inducted 2005)
Born in Western Australia, Gary Marocchi is the quintessential product of Australia's post war immigration policy. He is also one of the true icons of the game in WA and became the first football player inducted into the West Australian Institute of Sport's 'Hall of Champions'. He enjoyed twelve seasons in the First Division (1971-1988), all but one of them with Azzurri. He moved to South Australia to play with Adelaide City in the national league for six years. Marocchi was selected on twenty-two occasions for WA and played three times for South Australia. On fourteen occasions he wore the colours of Australia (1975-1978) and reached the pinnacle of his career when named captain for a friendly series against Greece. In WA he figured successfully in three First Division championships, three Night Series cups, three Top Four Cups and two D'Orsogna Cups. He later coached Perth Italia to three League championships (1991, 1992 and 1993), the Perth Kangaroos to the Singapore League championship (1994) and the State side to victory against Werder Bremen (Germany) and Iraklis (Greece). He was the inaugural coach of Perth Glory (1996-1998) and led Swan I.C. to a maiden Boral Cup victory in 2003. Inducted into the Hall of Champions in 1996 and elevated to the Hall of Legends in 2005.
John McInroy (inducted 2005)
John McInroy, born in Dundee in 1938, is one of Western Australia's legendary goalscorers. He was only 19-years old when he won the first of eight successive leading goalscorer awards, bagging thirty plus goals in all but two seasons including his best tally of 48 in 1963. He retired from the game in 1966, but three years later made a successful comeback by again topping the goalscoring charts with a haul of twenty. In one match, against Perth City on the anniversary of D-Day in 1959, he scored nine goals, the most by any one player in a post-war league match - a feat that was only equalled in 1990. He had a one season stay in Sydney but for the rest he remained loyal to one club, East Fremantle Tricolore, helping them to ten major trophies including four First Division championships (1958, 1963, 1964, and 1965). McInroy was selected on ten occasions for State duty. He was inducted into the Hall of Champions in 1996 and elevated to the Hall of Legends in 2005.

Alan Vest (inducted 2016)
Alan is WA's most successful coach, leading the State team to ground-breaking victories, being influential in Perth Glory's two NSL titles and tasting much success in the State League with various club. He was born in Barnsley, Yorkshire, and played with Boston United and Rugby Town before heading for New Zealand. He joined North Island side Gisborne City as player-coach and went on represent New Zealand 17 times as a player. He came to Perth in 1974 to fill the dual role of WA Director of Coaching and State Coach. His influence was felt almost immediately with the State side winning their first silverware overseas, the 1975 Marah Halim Cup in Indonesia (They were the first Australian team to win an event in Asia). This was followed by a sensational 2-1 triumph over Scottish giants Rangers in June the same year. The team had also lost narrowly to Manchester United. Alan led the State team to another Marah Halim crown in 1976. He then went on to coach NSL clubs Newcastle KB United and West Adelaide. The much-travelled Alan returned to WA to again coach the State team, and he also led club sides Perth Italia and Floreat Athena to titles. He had spells in Malaysia and was tempted back to WA for an assistant coaching role with Perth Glory (2001-05). Vest contributed to Glory winning NSL titles in 2002/03 and 2003/04 and was appointed interim boss in 2005/06.
Robbie Zabica (inducted 2012)
Robbie Zabica was a formidable sight, a tall and dominant keeper between the goal posts. Born in Spearwood, he played for Dalmatinac juniors, Cockburn United and Stirling Macedonia before transferring to Adelaide City in 1988. As a Zebras player he won two national league titles, in 1992 and 1994, played a then national record of 170 consecutive games and was awarded the competition's Goalkeeper of the Year in 1992. Zabica gained his first Australia cap in 1990 against Moscow Torpedo and made a total of 42 appearances - 27 of which were 'A' internationals - for his country, including the 1994 World Cup qualifiers and a dramatic play-off against Argentina, facing the threat of Diego Maradona. A serious knee injury forced his international retirement in 1995 but he returned to club football in 1996 with Dalmatinac. He also wore the colours of Perth Glory, English side Bradford City, Cockburn City, Bayswater, Inglewood United and Fremantle City before retiring. Zabica made six appearances for the State and was named the State League's Goalkeeper of the Year on four occasions. He was inducted into the Hall of Champions in 2008 and elevated to the Hall of Legends in 2012.
Top Pic: Gary Marocchi, Robbie Dunn, Ron Adair, John McInroy at the 2005 induction ceremony.
Second Pic: Sandra Brentnall, Gary Marocchi, Ron Adair, John McInroy, Robbie Zabica at the 2012 induction ceremony.
Third Pic: An emotional Robbie Zabica (left) after receiving his award, watched by Gary Marocchi.
Fourth Pic: New Legend Sandra Brentnall (left) celebrates with Judy Pettitt (centre) and Julie Gorton, who were inducted into the Hall of Champions in 2012.
Fifth Pic: Alan Vest is welcomed into the Hall of Legends in 2016 by Gary Marocchi, Robbie Zabica and Robbie Dunn.
Sixth Pic: The Seven Legends in 2016 - Zabica, Marocchi, Dunn, Brentnall, Vest, McInroy, Adair.
Last updated 27th November 2016