Submit a News Story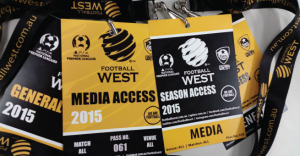 Football West encourages club officials to provide informative and interesting news items and pictures to be uploaded to the www.nplwa.com.au website.
The words provided should be your own and not sourced from a website other than your club's. The name of the photographer should be clearly indicated. You must acknowledge that words and pictures are provided for use without charge.
Please include first and last names of all individuals mentioned in any news report and ensure correct spellings are provided. Discrepancies in information, including spellings, may result in non-publication of reports.
Any pictures which clearly identify children under the age of 16 should be provided with written permission from a parent or guardian.
Football West reserves the right to edit provided content. Supply of news reports and photographs does not guarantee publication.
Submitting a story
Follow the instructions below and email media@footballwest.com.au
Your name:
Email:
Mobile:
Club:
Key points:
Who was involved?
Where did this happen or will it happen?
When did this happen or will this happen?
How did this happen?
Why is this newsworthy?
Further information of no more than 350 words should also be provided, including quotes from relevant people.