About Sportlines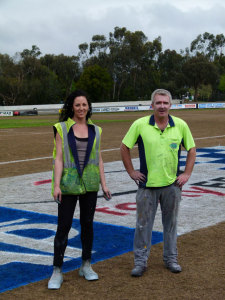 Australian Sportslines Linemarking and Logos specialises in the marking of all outdoor sporting fields and the application of club and sponsor logos. The products used are of the highest quality and are environmentally friendly.
Services we provide include:
INITIAL MARKS
RE-MARKS
LOGO APPLICATION
HARD LINEMARKING
PAINT AND MARKING MACHINE SALES
MACHINE SERVICING
" We contacted Richard at Sportlines to undertake our line marking work for the Division One Finals Series at Bayswater Oval. Richrd and his team provided an excellent level of service and a fantastic quality product.
We have no hesitation in recommending Richard and his team from Sportlines to any sporting organisation in need of line marking or on-ground logos.
We look forward to working with Sportlines again in the near future."
Mark Freeman
Development Manager
Eastern Football League
As tesitmate to our products and services, Australian Sportlines Linemarking and Logos recently became the prefered supplier for AFL Victoria.
You will be SURPRISED at how affordable our work is. So please call us for a free quote and score a win for your club.
Richard Mob: 0418 740 233
112 Yarraview Road, Yarra Glen, Victoria 3775
www.sportlines.com.au