About Us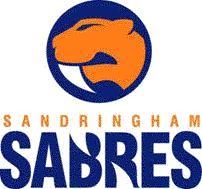 THE SOUTHERN BASKETBALL ASSOCIATION
SANDRINGHAM SABRES
"A BRIEF HISTORY"
From its humble beginnings in the Sandringham Memorial Hall, located in Waltham Street Sandringham, (now Coles supermarket) in 1975, the Sandringham Amateur Basketball Association (S.A.B.A) as it was then known provided local Sandringham residents with opportunity to participate in one of the fastest growing team sports in Australia. In 1979 the association moved to a new one court facility in Tulip Street Sandringham. The Southern Basketball Association has grown considerably since then and in 1995 moved into its current four courts home, still at the Tulip Street complex.
Today, the SBA has approximately 5000 registered members and had over 250,000 people pass through its doors last year. It is the largest provider of recreational facilities in the City of Bayside.
The Association operates both domestic and elite, representative competition, seven days a week for men and women, boys and girls. The Association's senior representative teams, the `SABRES', currently compete in the Australian Basketball Association, Big V conference. In 2004 both the men's and women's team's had tremendous success. The men's team finishing runners-up in tight finals series. The women's team also competing in their respective finals series.
The junior SABRES boy's and girl's teams play on a Friday night and may travel to all parts of the state to compete against other Association's elite teams.
The SBA also provides the opportunity for international competition and travel. The SABRES U/20 boy's and girl's teams just having returned from a two week tour of Canada. This is a wonderful opportunity for junior players to further develop their skills in the hope of playing at higher levels in the future. Currently the SBA has former juniors playing across the globe including David Barlow, Sydney Kings, Andrew Bogut, Utah Utes & Australian men's Olympic team.
With its current playing facilities now at capacity, the SBA is seeking to increase the number of courts it has available in the near future. The SBA intends to continue to provide one of the best public sporting facilities not only in the City of Bayside, but in the state of Victoria.